Big Tits at Work presents: Trina makes her husband bang her real estate agent, Gianna Michaels for a nice threesome!!!
Scene Title: A Done Deal
Storyline: Gianna is under so much pressure to sell that house ever since Trent decided to not buy it. So when a swinger couple, Trina Michaels and Eric Masterson, offer to buy the house for a little extra incentive, Gianna finds she has no choice...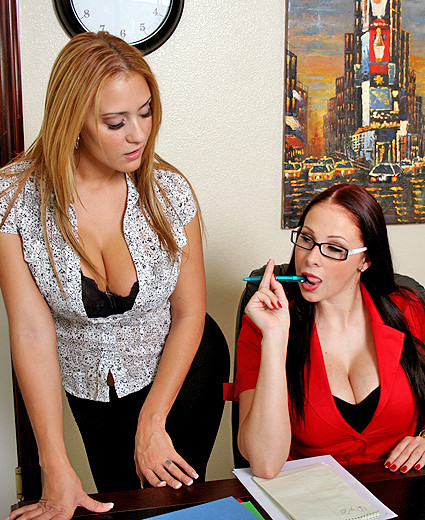 Big Tittied Trina Michaels and Gianna Michaels Picture Gallery From Her Workplace
What people are saying about: Trina Michaels and Gianna Michaels - A Done Deal bigtitsatwork episode
Comment #1
robertomalone said: These two ladies really are at the top of their profession. This is a fantastic pairing, as they take on their helpless male in a torrid threesome, There is so much here to enjoy; for me one of the highlights was when the girls order their man to lie back on the desk, in fact manhandle him onto it, then stalk around him like two predatory cougars on heat. Also amazing was when Trina is riding him cowgirl on the desk, and Gianna smothers his face with those mesmerising boobs. Enjoy this great big tits at work video from these two queens of adult entertainment.
Comment #2
fd449 said: I've seen Gianna in a lot of scenes before, but I've never seen her act. She's a very good actress. I have to admit I was shocked by how good she was. Very impressive. Great big tits at work scene overall.
Comment #3
eagleabc said: Man I love these scenes with 2 women, espicially when they go to swapping cum. I can't believe gardiner's comment that Gianna is ugly. I would like to see what he's fuckin'.
Comment #4
jason101 said: Gianna's body is a work of art! Especially love the contrast in this steamy scene of her milky-white flesh against the tanned skin of Trina...you can tell that both women's skin is silky-soft and smooth...especially their succulent breasts :)
Comment #5
iigreatoneii said: Gianna and Trina are both hot. Gianna is a great actor too, but I'd like to see a variety of girls. Gianna has been in a lot of updates lately. Why haven't you brought Carmen Kinsley back. You've had her in one scene out of all your sites. And some other posters have listed more porn stars to film. I like these girls, but I want to see others too, not the same ones, or it will begin to get boring, if it hasn't already for some of the members. I'm fairly new to this site, so it hasn't gotten to me yet.