Big Tits at Work HD presents: Naked News episode
Scene Title: Naked News
Storyline: BNN News anchorman Keiran Lee has been trying to go out with his co-worker Weatherwoman Melissa Lauren for months. After getting stood up once again, Keiran finally loses it during the taping of the news and confronts Melissa live on national TV. During the commercial break, their producer asks them to work things out in order to keep their job. However, they keep on arguing and it escalates to the point that Keiran and Melissa end up having angry dirty sex on the TV set.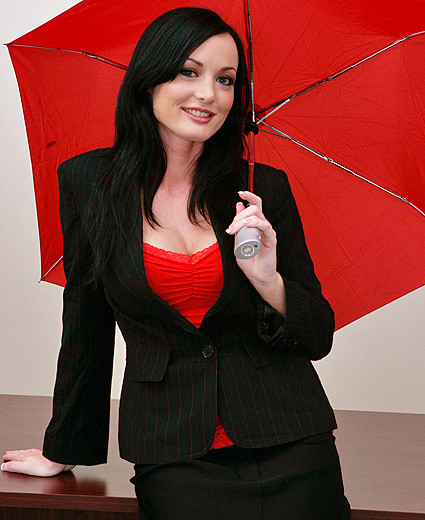 Big Tittied Melissa Lauren Video from her workplace
What people are saying about: Melissa Lauren - Naked News bigtitsatwork episode
Comment #1
outrider said: just a quick comment, I think Melissa's experience in directing allows her to be a more versatile pornstar. what do you guys think? Also she comes off as sexy and classy--as opposed to a slutty trash-talking atypical pornstar. What do you guys think?
Comment #2
outrider said: Great Job Keiran, Melissa and Brazzers! The bigtitsatwork video was really fun and flowed well with Anchorman. The sex scenes were straight forward and simple and both Keiran and Melissa brought out a sense of angst when fucking; and as a result it was very passionate. Melissa was really genuine in her ability to accommodate Keiran rather than simply moaning and cursing which oftentimes does not convince the audience that she was enjoying it and it scenes come off as fake. Melissa on the other hand was very classy and I especially liked that that she finished him off by stroking the tip of his cock and squeezing her tits together! This is becoming a lost art! Kieran emphasized her breasts with fondling, sucking and titty-fucking--the exact reasons why i signed up for this site! Loved the background map, the conclusion was really funny too. You guys made my week hoenstly. Thanks.
Comment #3
BiV_aka_funkdoc said: Yeah this was hot. What seems to be overlooked is the production by Brazzer lately. It really is quality work. Funny shit with the "Anchorman" spoof. I've never seen Melissa either up until now and I gotta say I was thoroughly impressed with her performance and dirt-talk. And those tits are mind-numbingly hot! Fawkface, I also noticed the fact that he's English and she's French and got a laugh out of it myself. Great video from big tits at work and brazzers and I hope we have some more soon with Melissa Lauren.
Comment #4
Jack66 said: Brazzers you are fucking genius! I have always been fascinated by all the hot young weather girls and anchorwoman who do the local news. Wondering if the anchorman is fucking anyone of them or who is fucking who because of the chemistry displayed between the hot people giving us the daily news for ratings. Great fantasy news by Brazzers! You guys really did a fucking great job here! All the Brazzers tie-ins with the stories was simply brilliant! Jordan and Keiran, Priya, etc.(My favorite MILF Sienna West marveling at a huge dick!) I replayed the first couple of minutes a bunch of times because there is SO much going on here. Keiran pounding Scotch like he pounds the ladies was priceless! Tommy Gunn the Cockfather! LOL Now I see why everyone kisses Keiran's ass! Keiran is this generation's Peter North, the king stud of porn (You better work on your cumshots Keiran!) I love Melissa's tits with the nipples perfectly almost facing the ceiling,wow! Hot chemistry between Keiran and Melissa make this one of the hottest big tits at work sex scenes I have witnessed in 30 years of watching porn! Fucking doggie in front of the weather map no doubt caused many pre-mature ejaculations around the world! WOW!!! I wonder how many stayed to watch the end of the news, I am off to watch the Sperminator now,great job Keiran,Melissa, and BRAZZERS!!! 10+!!!
Comment #5
obb201 said: I wasn't expecting this scene to be that good because I'm not really into Melissa Lauren. However the scenario itself was good, the set could have been more realistic. The one thing that really bothered me is what triggered the argument leading to the sex. The whole whether it safe to be on the road or not seemed really childish and lame. The sex was pretty good. Melissa looked decent in this scene. Overall, it was better than I expected it to be. 8/10.