Big Tits at Work presents: Busty Chick fucks the waterboy
Scene Title: Make my pussy wet water boy!
Storyline: Everyone in the office is mad at Angelina because there's no more water left in the water dispenser. When the Water Boy finally shows up, she gives him shit for being late. The Water Boy is also having a bad day and he won't take shit from her. So he pulls out his cock and fucks her hard until she finally shuts up.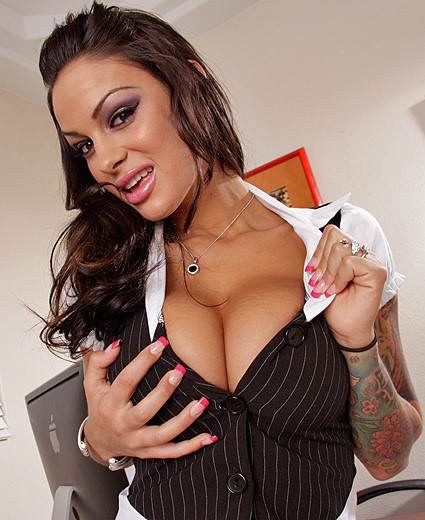 Big Tits Worker Angelina Valentine HD Video
What people are saying about: Angelina Valentine - Make my pussy wet water boy! bigtitsatwork episode
Comment #1
stueyyy said: OMG fuckn hell just bitch can suck cock n deepthroat better then anyone ey more secenes with her NOW!!!!
Comment #2
steviousm said: Her mouth and lips look like they made for sucking cock. I think she needs to do some stomach crunches though as her belly isnt as tight as you would expect from such a sexy slim girl with lovely tits.
Comment #3
BiV_aka_funkdoc said: Finally got to see what aeveryone is raving about, and they weren't lying, this bigtitsatwork scene was intense. The story and the sex were almost separate from each other; there should have been more back & forth between them before they got down to it. Her outfit was great, especially the underwear. And what else can I say besides that this chick is an animal. Sucking and fucking in all positions at maximum speed. And your boy Johnny was with her every step of the way. lol "pumpkin tits"
Comment #4
bansheee69 said: HOLY SHIT! this scene is a 10! johnny fucked the shit out of her and she loved every second of it! she looked like she creamed about 10 times! AWESOME bigtitsatwork scene!
Comment #5
Jack66 said: Angelina is hotter than fucking hell! I love her ink that makes her even hotter! "Pumpkin tits?" LMAO! Johnny is the best at fucking these sluts, hell yeah! Look at those fucking huge tits!!! Damn, Angelina can deep throat Johnny? WTF! Great sexy outfit babe! I like how two guys are looking for water and bitching about it to "Pumpkin Tits" who then proceeds to fuck the shit out of the late water boy uninterupted! I guess Angelina's pussy is not as deep as her throat by the way she is taking a pounding from Johnny! Nice doggie camera work so I can see Angelina's tats too! Great CG with big ass tits in Johnny's face! Love the piercing Angelina! Also nice RCG camera work! I gotta watch Angelina's scenes now after this one, WOW! Nice huge cumshot on those big ass titties! 10!
Big Tittied Angelina Valentine Picture Gallery From Her Workplace