Big Tits at Work presents: Krissy and Nika wrestling a big cock to fuck with
Scene Title: Brazzers Cumfidential
Storyline: Kryssy Lynn, Brazzers Cumfidential reporter is on the set of the AVN Award winning Site Brazzers. She is filming a behind the scene expose on how a sex scene is filmed and all the work that has to be put into one. Being turned on by all the action, Krissy is being led on the front seat with Scott Nails for an exclusive as a female performer, along with sexy Nika Noire.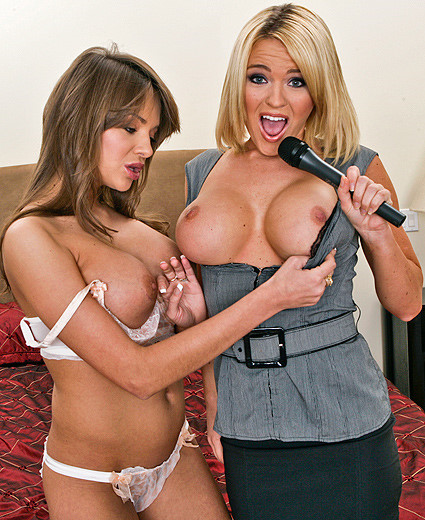 Big Tits Worker Nika Noire, Krissy Lynn HD Video
What people are saying about: Nika Noire, Krissy Lynn - Brazzers Cumfidential bigtitsatwork episode
Comment #1
Survivor1000 said: this is the best big tits at work video to me from the second best pornstar. Krissy lynn is my favorite after Penny Flame To bad penny retired. She was the best in my opinion!!!
Comment #2
roanoke said: Now this is good acting in a porno flick. Very hot at work video.
Comment #3
veybon691 said: Finally a big tits at work video that i actually watched and didn't foward to see a pop shot to. Fucking beautiful
Comment #4
SmutRocket said: I have tried getting through this video no less than ten times now, and keep finding something new to love, which is a rare thing for Brazzers clips these days. The commentors below who find fault with this clip are likely gay; I find nothing wrong with this clip, one of the best in Brazzers history. I would love to see this turn into a full-fledged series, with Krissy Lynn continuing to "interview" various huge-titted stars. If that lame Ben English/Audrey Bitoni Secret Agent shit can warrant a series, this should, too...
Comment #5
BiV_aka_funkdoc said: Off the motherfucking yelzebar. This scene was one of the best in ZZ history. Krissy Lynn is not only looking really delicious with that hairstyle, but this chick was born to be in front of a camera. No doubt she has the look, but after seeing this, she has that swag to be doing something like "E! Hollywood Story", but she chose to do porn and I thank her for it. The script was executed perfectly, and Brando was straight $$ with the whole scene with the camera angles & positions. Totally loving how Nails & Noire just came on to Krissy, and her subtle warming up to it really made this that good. Then the fucking commenced and it was heat all the way thru, even tho the constant "reporting" through the sex got a little annoying. Even Krissy keeping up with her role after the $$ shot was great. This is a rare 10 from me. Werd braZZers...
Big Tittied Nika Noire, Krissy Lynn Picture Gallery From Her Workplace