Big Tits at Work HD presents: Bad News episode
Scene Title: Bad News
Storyline: Penny Flame is having a very difficult day. She has to go see her client Barry and ask him to sign some documents accepting the life imprisonment sentence instead of the death penalty. Barry won't sign any document because he believes Penny hasn't defended him well in court. Instead, he's going to give Penny the hardest pussy pounding she's ever got, right there in his cell.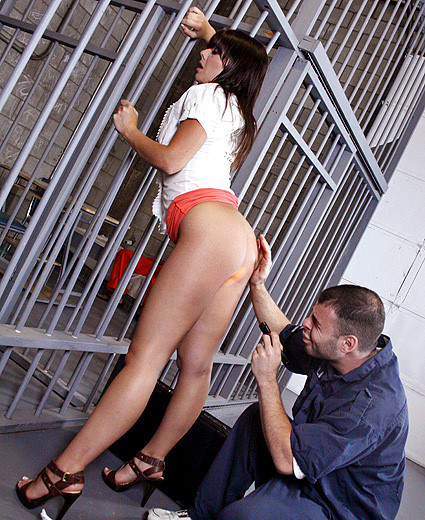 Big Tittied Penny Flame Video from her workplace
What people are saying about: Penny Flame - Bad News bigtitsatwork episode
Comment #1
Silas88 said: I want to add that I love that Penny has not ruined her body with piercings but is natural which makes her fun to watch.
Comment #2
BiV_aka_funkdoc said: Why is this rated so low? Don't tell me it's because it's a BigTitsAtWwork scene and Penny doesn't have over-inflated d-cups. That would just be plain moronic. This was one of the best acted scenes, scenarios in a long time - Penny was on-point aas ususal and she looks sooooo fucking hot with that hairstyle; Barry was good ( i don't understand why he get so much hate), so was Ralph, the set was pretty realistic, and the sex was good. To me, all that equals a hot scene.
Comment #3
robb201 said: This big tits at work video was hot. Penny played the role perfectly and I loved how he just kind of pounced on her while she was locked in the cage. The sex was decent, not great, but had some rough parts. The only thing about the sex was that Penny seemed less vocal than she'd been in her previous scenes, not sure if she was having an off day or what. The cum shot was weak, but Barry's been getting better at fucking ever since his scene with Alexis Texas and Brianna Love on BigWetButts. One things for sure, this scene would not have been better with Criss Strokes in it....Criss Strokes is a fucking dumbass. 9/10
Comment #4
Gino said: I thought the scene scenario was hot, and Penny is one of the best actresses in the porn biz. Please keep bring her back for many more scenes!
Comment #5
QuadRacer99 said: fuck she has such a sweet little pussy! she needs to do a scene with someone like criss strokes, who is a giant compaired to this fag that cums 2 drops and thats it. fuckin pathetic! hey heres an idea, maybe next time dont jack off right before you do a scene, and maybe you will shoot a half decent load.. its pretty sad that the girls get all worked up thinking your going to drench them in cum, and 2 drops come out.. barry scott, you are the weakest link, goodbye!