Big Tits at Work presents: This flight attendant is taking to new heights while she rides a huge cock
Scene Title: Tits On A Plane Part 2
Storyline: Keiran is on an important business trip with Brazzers Airline. He takes his seat and enjoys his flight. As much as he's trying to get things done before he reaches his destination, he cannot stop from being distracted by the flight attendant Kylee's Big tits. She purposely distracts him and gets aroused by his reaction. It'll only take so much before he snaps and lets her know his intentions, which in a way are similar to hers.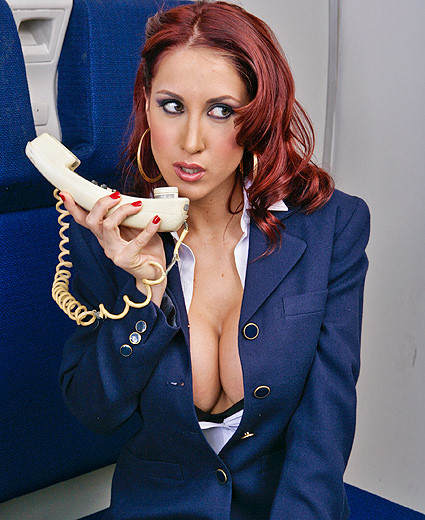 Big Tits Worker Kylee Strutt HD Video
What people are saying about: Kylee Strutt - Tits On A Plane Part 2 bigtitsatwork episode
Comment #1
lovediamond said: very good big tits at work video, so exciting. everybody want to fuck a CA isn't it? Great body, pretty face, we need more
Comment #2
drrob321 said: Still my favorite but she still sounds like she is on the verge of an asthma attack when she gets into it.... I would like to see her take charge in a scene instead of the usual. I know she has an attitude, lets see her show it.
Comment #3
bossma3333 said: I absolutely love this girl. Unbelievable legs, ass, tits and sex appeal. And she doesn't have the cookie cutter look. Best girl in porn right now. Her squealing is a huge turn-on - it is very natural and seems uncontrollable. The only thing left to say to Brazzers and others is MORE MORE MORE. Get her in a new scene every two weeks if possible.
Comment #4
BiV_aka_funkdoc said: I didn't watch part 1 cuz I wasn't into the girl, but maybe I should have cuz the production here was off the yelzebar; totally diggin it. Kylee's outfit was jaw-dropping especially when she's grabbin them tits. I didn't realize she had a snaggletooth tho, lol. KL was on point, he pounded her start to finish with ill intensity. I do have to say her squealing is a big distraction for me, especially since it sounds nothing like her speaking voice. But squealing aside, this was an awesome big tits at work video from production to fucking, and even the flight attendant jumping in for a sec, too.
Comment #5
MissSnoogans said: I believe I nailed who would be fucking who in part one. I loved how Kylee was flirting with Keiran. I'm shocked by the turn out of extras that were cool being in a porn scene. I always thought Shyla had the best thighs. After seeing Kylee in reverse cowgirl, I think she could crush coal into a diamond. With all the squealing going on, I don't know how any passenger was sleep. I liked how she stopped what she was doing to find out how things were on the plane. Every fucking positions was so steamy. I enjoyed that the camera got both bodies in the shot. The sexiest position by far was doggy whether she had a leg up or down. i can't believe Keiran went out like a bitch in the end. Snoogans!
Big Tittied Kylee Strutt Picture Gallery From Her Workplace