Big Tits at Work presents: Shyla Stylez needs wants to fuck at work
Scene Title: The Oralfice
Storyline: After numerous attempts at trying to reach Jordan by telephone, corporate office has no other choice but to send Shyla Stylez 'the enforcer' to whip things into shape...literally! Before everyone knows it Shyla is stomping through the office trying her hardest to motivate everyone into well behaved individuals. She also makes the manager become a well respected authority figure by making him fuck her so hard that everyone in the office can hear her moan.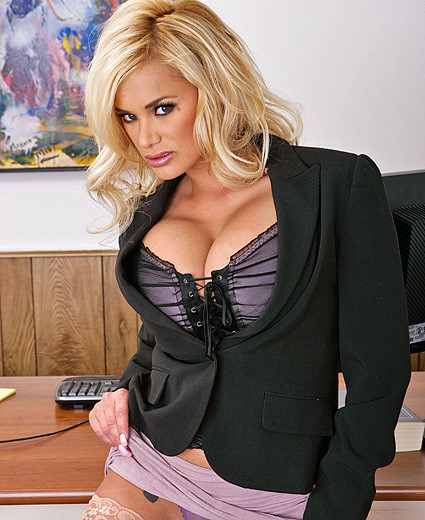 Big Tits Worker Shyla Stylez HD Video
What people are saying about: Shyla Stylez - The Oralfice bigtitsatwork episode
Comment #1
robertomalone said: There are super-sexy babes, and then ther is Shyla Stylez; she is just in a league of her own. This was a fantastic big tits at work video, which not only gave us the celestial being that is Shyla, but also a great little story whch was well acted and very funny. This is what adult entertainment should be all about, and I totally agree with julian0720061; girls like Shyla are actresses and should be respected as such. She has a rare ability (and it's not just about her knockout looks), and scenes like this one utilise it to the full. I am a big fan of The Office anyway (The original British version - I haven't really seen the US version), and this parody is the ultimate accolade as far as I'm concerned. Jordan makes a brilliant 'David Brent' and does a manful job on the awesome Miss Stylez. In the outfit she was wearing of white/tan stockings, black high heeled pumps, tight skirt, jacket and basque, she was the epitomy of the sexy hollywood vamp, who so teased and distressed the world's male population for decades. Luckily for us, Shyla has come along and actually delivers. When Jordan is thrusting between her gorgeous spread legs, reching forward to squeeze those lethal tits, I had to make a superhuman effort not to cum immerdiately. Just a brilliant scene!
Comment #2
jasonan199 said: This was fuckin hillarious "she just totally swallowed my babies" haha it was funny in an adult way and the fucking was just phenomenal more parodies please brazzers!
Comment #3
shylaks said: Shyla is the best, and the way that brazzers evaluate porn stars s not fair. I think we will quit our membership me and a lot of my friends if Shyla will not categorized like the topest starr. Man she is doing the best scenes and she is not appreciated by brazzers!!!!!!!
Comment #4
julian0720061 said: this is the best scene on brazzers site. this is what seperates brazzers from naughty america, assparade, and all other sites. we need more parody skits their amazing must we not forget these pornstars are actors no their not the best but the only difference between them and a b list actor is the nudity. great job ash and shyla have the best chemistry on this site they enjoy being with each other.
Comment #5
MissSnoogans! said: Damn when this big tits at work video started I wasn't expecting an Office parody. One of my favorite shows that I watch on the regular. Where is the application for me to get my smoke on, dice game rollin, and my porn viewing satisfaction at? Kory you fucking rock...I mean Ara. Nice second job you got going on Julie. Shyla's body is so fucking ridiculous. When she bent over for fucking doggy my chin dropped to my desk. If she were a Transformer then she would be a tank. You better have the big gun if you want to penetrate that. No one could of pulled this off other than Jordan. I laughed my ass off at his last talk to the camera. The story was alittle long but the sex made up for it. That pace was reat for what I needed to do. Snoogans!
Big Tittied Shyla Stylez Picture Gallery From Her Workplace