Big Tits at Work presents: Big Titted Secratery sucking her bosses cock under the desk
Scene Title: Naughty Secretary
Storyline: Eva Angelina loves her boss' cock. She is always having sex with him in his office. This time they almost got caught by her boss' wife who showed up at the office by surprise precisely when Eva was giving him head. Even though Eva had to hide under the desk, that didn't stop her from pleasing her boss. Once his wife left, her boss gave her the pounding of her life.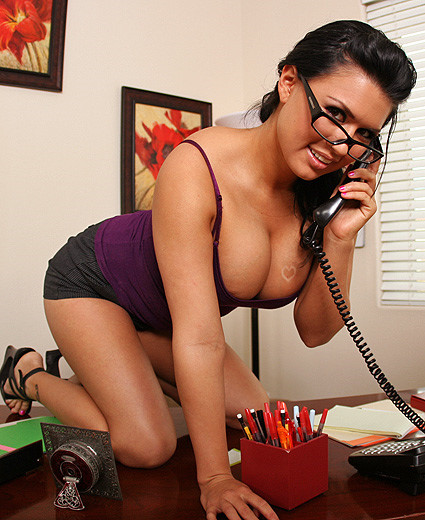 Big Tits Worker Eva Angelina HD Video
What people are saying about: Eva Angelina - Naughty Secretary bigtitsatwork episode
Comment #1
YungRedd713 said: Eva Angelina is such a naughty girl. And she just has the whole "typical pornstar" look about her as far as I'm concerned. Because of these two things, I always enjoy seeing new scenes with her in them. Keep 'em coming Brazzers.
Comment #2
jasirikun said: I thought this big tits at work video was effin' brilliant. Danny should be in more scenes right away. Maybe He & Eva could do a scene with Keiran & Puma...
Comment #3
Scotsman said: Big fan of Eva but i've seen it all before...............very hot girl gives a great performance every time but its just the same old stuff from her, seriously was there any need for another scene with her on here so soon ? i know its a different story line and all that but who actually cares about storylines that much ? frankly i'm getting bored of her. i know she does anal now so a BWB all anal vid would be incredible to watch, i hope it can happen !!! ds
Comment #4
funkdoc said: Yeah Eva always makes a big tits at work video good. Good setup, the "wife" made it quite believeable. The foreplay was dumb hot before she got under the desk. The wife busting in on them with her under the desk was a great touch. Those heels she had on are on some futuristic-type shit. The sex was eeeeh, but like I said Eva makes it go. The guy looks EXACTLY like a friend of mine, without the English accent. He did a good job with the acting, but his fucking could use a lot of improvement. And while not a lot of jizz, he shoots like an uzi, lol
Comment #5
robb201 said: Not her best scene, but a good scene nonetheless. The wife just forced her way in the first time, but then knocked the second time? Eva should have been under the desk when the blow job started and then come out after hearing the wife say she's going to lunch with some friends. It seemed like things were done slightly backwards in that sense. The way you shot it made it obvious that the wife's knock was to give them the heads up to hide Eva, when she didn't feel the need to knock the first time she came in. Eva rocks the glasses like no other girl can. The guy was alright, but appeared to get soft at times. I don't think his load was that great, but it was better than some of the one's lately. I thought the sex was a let down. I was expecting it to be rougher, I know how naughty and freaky Eva can get. Overall, a decent update. 8/10
Big Tittied Eva Angelina Picture Gallery From Her Workplace