Big Tits at Work HD presents: Parking business episode
Scene Title: Parking business
Storyline: Tory was minding her own business until Parking Intendant Tommy Gunn came to give her a parking ticket. She had been notified many times and failed to comply with the parking rules of the building she works in. Tory had to cut a deal; she is so stressed from work and could use some slack. Tommy was glad to relieve her stress with his cock in her mouth.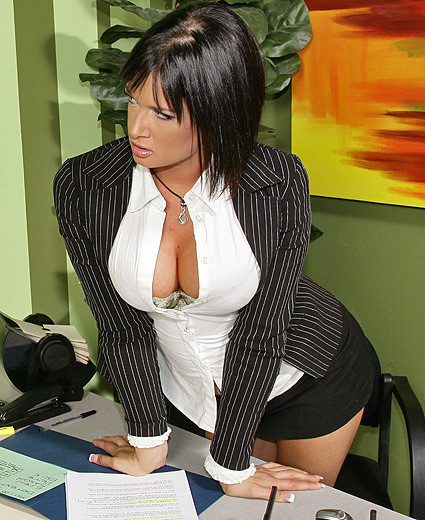 Big Tittied Tory Lane Video from her workplace
What people are saying about: Tory Lane - Parking business bigtitsatwork episode
Comment #1
robertomalone said: Oh, wow! Tell me how my balls have not exploded, please. Tory is one hell of a sexy babe: what a body! What tits! What legs! And oh, so sexy in that little pin-striped business suit. Full marks to Tommy for a great performance,too.# PS - I love the new hair style (Tory's, that is). Reminds me a bit of Jeanna Fine in the late 90s - praise indeed in my book
Comment #2
TheeTommyGunn said: Hey gang, im finally here so i can thank all you guys and gals for your support and votes of confidence......Brazzers treats me really well and i love working for them and will always look forward to performing and giving you all i got. thanx a Million.....KEEP WATCHING!!
Comment #3
BiV_aka_funkdoc said: Yeah Tory is off her rocker, but she can set up a scene like no other. Good scenario, and both were perfect for their part. The way she came on to him was hot as hell. Then there was some good fucking with some good positions. The doggy over the arm of the chair with both her legs out was nice. It looks her midsection is a little bit loose, but it wasn't that noticeable with the skirt in the way. Tommy is great because he fucks the girls well and doesn't try to upstage them by trying too hard. I don't know how he lasted as long as he did, so I gotta give it up to him for that. Nice $$ shot between the eyes.
Comment #4
Hawk said: Tory Lane is insane. And I dont mean as in insanely hot and hardcore, I mean she's flown over the cuckoo's nest.
Comment #5
robb201 said: If she went back to the look she had in her BTAW - Company Cutbacks scene this would have been much better. Or her look in her BGB - Tory's back for more! or BGB - Huge titted teen fucking scenes would have made it better. Tommy was a better partner for her than Ramon or Alec were. The sex was good, they both seemed into it. The scenario was alright, nothing spectacular. I really hate Tory's short hair look, it's just unattractive as hell to me. She still made some annoying/unattractive sounds during the sex as well. Overall, a good big tits at work video, but not great. 7/10.