Big Tits at Work presents: Tara White enjoys a good office fuck
Scene Title: King of the Jungle
Storyline: The workplace can be a jungle sometimes so you have to make sure you're the guy in charge... When Tarra drops her pencils, she'll understand who's the king of her jungle!!!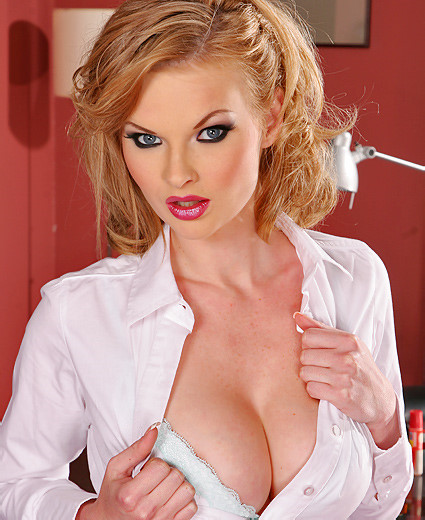 Big Tits Worker Tarra White HD Video
What people are saying about: Tarra White - King of the Jungle bigtitsatwork episode
Comment #1
JerseyGuy said: Wow!! She is HOT!! Love her tits, the piercings, and her playing with the cum. Definitely need to see more of her!
Comment #2
srichardson123 said: This girl is HOT! Another dude next time please.
Comment #3
BUFFDADDYDX said: The video from big tits at work was alright. I dunno what all the hype around chic was though shes cool nothing special. This dude Bob Terminator needs to change his name cause it dont fit him. I was thinking dude was gonna be this muscle bond cat or some shit. Dude aint even really fuck her worthy of a name like that either and that cum shot that shit was pathetic
Comment #4
MissSnoogans said: That first chick looked like Helena Sweet for a second. Oh Bob Terminator was snatching up chicks like they were named Sarah Conner. By the piercings in her tongue she must really enjoy giving fellatio. Even though i was impressed by his paced in mish on the desk. I loved the uniqueness of the mish in the chair. It just lost some luster after just seeing it. They should have started there. Now I did like the doggy on the desk and her legs being all sprawled out. She had to short stroke him in cowgirl but damn it was hot. She was jumping on his cock like she had hydraulics in her legs. She's hot and I like her purple eye shadow. That was one weak as cumshot. Snoogans!
Comment #5
loveprada said: Wow! Love this video. I like when girls keeps high heels and stocking (even if they falls out during hard sex :))
Big Tittied Tarra White Picture Gallery From Her Workplace