Big Tits at Work presents: Holly and Tanya fuck their way out of a lawsuit
Scene Title: Big Tits R Us
Storyline: Mr. Ash, a workers rights employee is talking to company manager, Holly West about a young lady who feels she has been discriminated against because of her petite breasts. Holly calls in Tanya to show Jordan what the company is all about. Jordan quickly forgets about the petite breasted lady because his love for huge tits is overwhelming. It hard to stand up for itty bitty titties when you got two great sets of knockers up close and personal.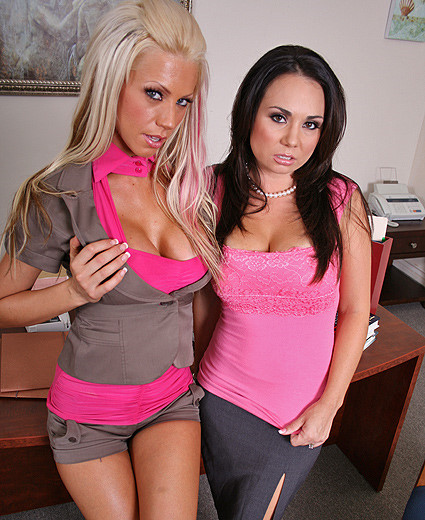 Big Tits Worker Tanya James and Holly West HD Video
What people are saying about: Tanya James and Holly West - Big Tits R Us bigtitsatwork episode
Comment #1
sirsol said: tanya is too fucking fit. theres no contest here b/w the 2 girls. i didnt manage to last the whole scene watchng her, man does she scream
Comment #2
BigLRock19 said: This was a solid big tits at work video, but not as good as it could have been! HOLLY'S THONG disappeared, what's up with that :@ ! You guys edit out some of the best little things sometimes, that kills me. Jordan, let me down in this one, very weak performance, he took forever to get started with them, and showed no excitement towards banging these two hot ladies. Tanya was kind of soft here also, but looks so good, she passes, that pink streak made her look like a punk rocker though. Holly was the best of the three, great riding action, and taking all of Jordan like a pro, nice butt shots of her in this :p she's great. The facial was real good, but he didn't let them finish him off. Not a champion, but a contender of the good scenes here.
Comment #3
BiV_aka_funkdoc said: Lol @ Jordan in the beginning, "An entire office with big-tittied women!" haha. This was the shizznit. Like Strider said, Tanya is must-see right now, & I don't think anyone screams louder than her; she's so loud it distorts the sound. Her performances are a thing of beauty. Holly was amazing here too, keeping pace with Tanya. The best position was Holly's cowgirl while Tanya sat on Jordan's face. Great big tits at work video, excellent pairing.
Comment #4
Strider12471 said: Tanya James is must see now. Holly was good, but Tanya stole this scene. We are lucky that a girl with the perfect body, model like looks is willing to do porn, kind of like Jayden James. Keep Tanya scenes going...pair her up with Voodoo or Johnny Sins please in one on one scenes. BTW...she comes hard and enjoys it, a rare quality among "pornstars" these days.
Comment #5
MissSnoogans! said: Damn Keiran I think Jordan might have shown you up. Holly and Tanya couldn't get enough of Jordan. I don't think they would have minded if this big tits at work video went about another half hour longer. I never seen Holly get that much into a scene where she is smacking her boobs. Then Tanya's head was a bout to cave in from her clit being swallowed. Great scene cause this was one hot fucking scene. The moans and facials expressions will tell you that. Still don't like threesomes on a desk. Snoogans!
Big Tittied Tanya James and Holly West Picture Gallery From Her Workplace