Big Tits at Work HD presents: Solving Conflixxx episode
Scene Title: Solving Conflixxx
Storyline: Boss Brandi Edwards is trying to find a way to solve a conflict between co-workers Tanya & Danny. Tanya is craving Danny's cock but he just doesn't want to give it to her, so she comes up with a sexual harassment story to try to get him fired. They'll have to kiss and fuck to make up and keep their jobs.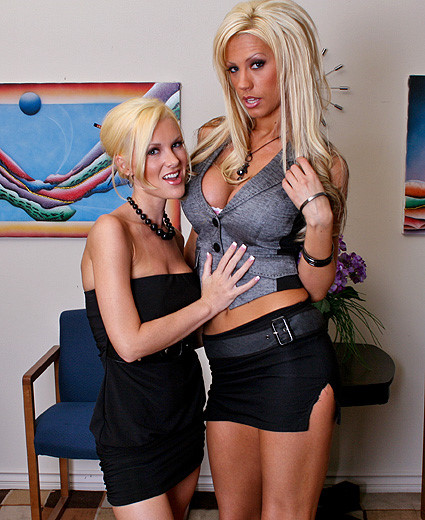 Big Tittied Tanya James and Brandi Edwards Video from her workplace
What people are saying about: Tanya James and Brandi Edwards - Solving Conflixxx bigtitsatwork episode
Comment #1
cycle29 said: I have never been one for the sex at work scenes but this was fucking amazing! Brandi showed how dirty she can talk and they both took it to him. I absolutely loved this scene. Tanya is flat out amazing in any scene you put her in. She knows how to fuck so very well and she lets us know it. If you don't like this big tits at work scene, then try her when shes a swinger. Shes amazing!
Comment #2
an2w0n983 said: i just saw this trailer! what a scene! tanya looks... so hot. i can't wait to c this full mov. i love everyone saying how hot she is. it makes her that much more attractive. btw, why isnt she on the top 3 stars on this site? come on ppl do ur job n vote 4 miss tanya james a.k.a. today's hottest pornstar!!!
Comment #3
yeaah420 said: Brandi looks much better as a blonde, to me. That doggy fucking Danny gave her was incredible; I thought she was gonna fall down when she headed for the chair.
Comment #4
BiV_aka_funkdoc said: Tanya James has my full attention these days. Bitch is like 6'1' with 5'5' of them being all legs and it got me going. I liked the story somewhat, but as soon as they got down to it it didn't matter anymore. Brandi is a solid and underrated perfomer, and she always makes a hot big tits at work video. But I'll say again she looks better as a brunette. This was just plain awesome all the way. 10. And I'm definitely on the same page as NocNoc (always have been) and Worldcrusher
Comment #5
robb201 said: This was a good scene. I'm not a big fan of Brandi, never did find her that attractive, she's a little too skinny for my liking. Although both her and Tanya did a good job in this scene. I don't like Brandi's new hairstyle or color. She looked much hotter with the hairstyle and color she had in her Mommy Got Boobs - "Getting Along..." Tanya looked good in this scene, but I liked the pink strips in her hair in the Doctor Adventures scene. The sex was decent. Overall a nice update. 8/10.