Big Tits at Work presents: Hot slutty secretary fucks and sucks an employee and gets a huge load of hot cum on her face!
Scene Title: Extra Work
Storyline: Sienna, like many bosses, needs someone to tend to her more...personal needs. So, she decided that Alex would be the perfect candidate as her "personal help". Now all that's left is making sure that he's the right man for the job...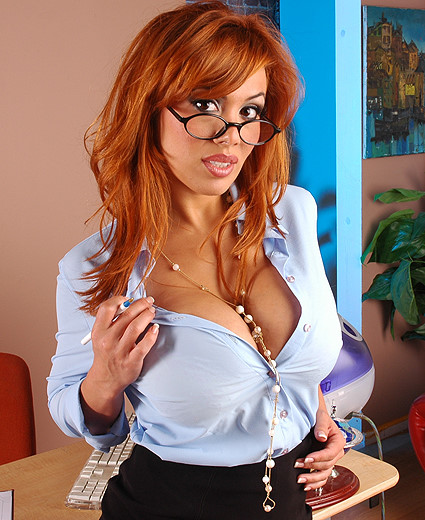 Big Tits Worker Sienna West HD Video
What people are saying about: Sienna West - Extra Work bigtitsatwork episode
Comment #1
robertomalone said: What an awesome babe she is! She looks so fucking sexy in this big tits at work video, and seeing her getting fucked was pure magic. I notice that Sienna seems to have been withdrawn from the Brazzers Pornstars menu, and her name is not credited on her scenes, even though you can still see them. I hope everything is OK? it would be a great pity if anything bad had happened; she's such a special babe.
Comment #2
drums69 said: such a hot women sexy outfit and all make up la la la then u see the lame shoe she wears and its a big soft on. Get her some six inch cum fuk me pumps of. and black too fukkers.
Comment #3
polcam said: Pretty good big tits at work video. Sienna is into it. The first orgasm took me by surprise, and really built the tension. Usually after that it's an endurance event for the rest of the scene, but when she had he 2nd orgasm, that made me wonder how many more she'd have. Beautiful to see a woman enjoying herself so much. The only problem is the stud's cock had a bit of a time getting going--a little floppy at first. I don't like scenes where it looks like the guy is concentrating to try keeping his prick up. I don't really understand this sort of thing. I mean, before she takes off her clothes I'm rock hard!
Comment #4
eagleabc said: Sienna is superb. I love the way she pushes out those tits and spreads her legs. Keep up the good work babe and next time swallow a little cum.
Comment #5
RuckFules said: Clothes came off far too quickly for me. Half the fantasy of BigTitsAtWork is to see them in these hot outfits... they slowly turn into any other regular big tits at work video when the clothes come off. Please keep 'em on next time
Big Tittied Sienna West Picture Gallery From Her Workplace