Big Tits at Work presents: Hot housewife Shyla Stylez fucking the gardener in her kitchen
Scene Title: Payback...
Storyline: When Shyla noticed that her gardener, Jack, used to tease her in high school she decided it was time for payback. She showed off her beautiful tits and body, and prooved that she's not the same girl he went to school with. Jack couldn't help but feel terrible, but lucky for him there was one way he can make it up to her...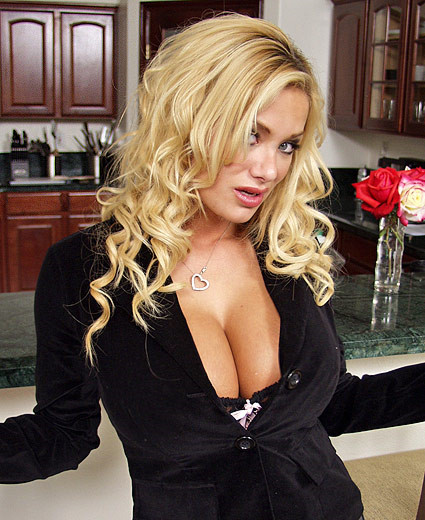 Big Tittied Shyla Stylez Picture Gallery From Her Workplace
What people are saying about: Shyla Stylez - Payback... bigtitsatwork episode
Comment #1
tittieman said: one of her best big tits at work updates ever that is for sure because back then she didn't know that she would be a star now it seems like she is full of herself and not putting in the effort that she used to. Oh well one of the hottest boddies that is true but bring back some of the stuff that made you number one.
Comment #2
firefight36011 said: This at work with big tits video is awesome, I love those bikini cut panties they drive me crazy. More of the women need to start wearing those type of panties
Comment #3
badboy316 said: dam this is one of her best scene's i love the way she uses her leggs and those high heels dam and the way she arches her feet this woman no how to fuck and the black clothes dam just watch her in this scene i cum so fuckin hard well my ? is when will there be a second scene added to this one ty
Comment #4
robertomalone said: An almost flawless scene. The set up was excellent, and the fact that all the action took place in that big kitchen was inspired; in fact the set was used very imaginatively, as the action moved from bar stool to worktop to up against the fridge, and so on. Jack Venice played his part very well, and he used the script to help turn up the heat. The way he worked the babe was energetic and passionate, with some nice touched of humour to temporarily relieve the tension. But waht made the scene a classic was of course Shyla. She has to be one of nthe hottest babes in the world right now for those who appreciate the classic shapely feminine look. Just thinking about her can give me a painful hard on, especially her powerful, shapely thighs, and of course those beautiful tits. Then again there's her sexy face and luxuriant blonde hair...where was I? Oh yes, and it's not just her looks, she's a top performer, too, and in this scene she obviously loves being impaled by Jack's big cock. I was particularly impressed as she was getting slammed up against the fridge, with Shyla looking back at Jack hungrilly... Once again, fantastic stuff. Keep it up, guys,
Comment #5
badboy316 said: i would love to see her in a scene dressed all in black like the outfit she in in the scene where she fucking Jack Venice that out fit is hot they she got on her leggs dont stop ad the black heels dam this video made me cum so hard i would love to see her in a scene where she is busy or start to get forced fucked and her phone ring through out the scene where she getting eat out and she has to talk on the phone or put her in doggy style and make her answerr her phone but make the dude fuck her hard so she trying to hide it from her hubby when she starts to fucking cum hard got i love to see a scene like that with her thank you s