Big Tits at Work presents: Sara Stone gets her horny boss to play with her big tits
Scene Title: How to please my Boss
Storyline: Sara Stone finds herself in competition for a job, a male employee has the edge coz he is buddies with the boss. He brings him porn, cigars and booze but Sara takes it further by showing Mr Nails that what he dreams about is right in the office he manages.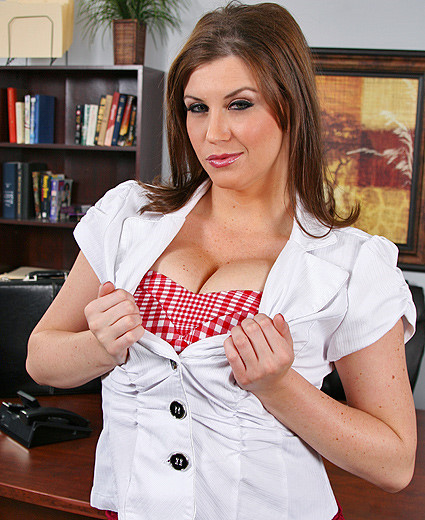 Big Tits Worker Sara Stone HD Video
What people are saying about: Sara Stone - How to please my Boss bigtitsatwork episode
Comment #1
MissSnoogans said: Very nice story with some friendly competition. I can't believe she wore that dress. Anyone with that much natural beauty should never wear something that hideous. The oral sex went on slightly too long. The titfucking was fucking incredible though. The first three positions were alright. I think I enjoyed watching her boobs sway like a pendulum on a grandfather clock. The reverse cowgirl was good cause of the exchange of them fucking one another. At least after watching this I now know the RCG is more about show. Snoogans!
Comment #2
Don_Tomas said: Love those big natural tits. Sara still is not very good at giving head. Once she figures that out she'll be at the top of the pornstar pack.
Comment #3
phillip.jones said: I hope we continue to see more of her. She's one of the best.
Comment #4
hurricanefan09 said: This woman is gorgeous! She's comeback w/ a vengeance!
Comment #5
ryexpress said: Bring her back WEEKLY! Nothing like ALL NATURAL!!!
Big Tittied Sara Stone Picture Gallery From Her Workplace