Big Tits at Work presents: Hot and busty coworkers getting a threesome in the office
Scene Title: Office Threeway
Storyline: Sara Jay and Darryl Hanah are always in competition. So when they notice that they're both attracted to Van, one of their fellow employees, they start to compete to see which one can get him. Let's just say that Van ended up being the real winner...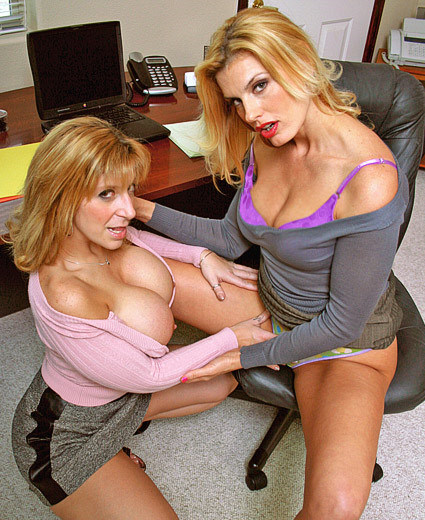 Big Tittied Sara Jay and Darryl Hanah Picture Gallery From Her Workplace
What people are saying about: Sara Jay and Darryl Hanah - Office Threeway bigtitsatwork episode
Comment #1
ManUJuveReal said: Sara Jay is unbelievable! Bring back this MILF asap, Brazzers! Why is Sara Jays name missing in the line-up of pornstars playing in the "office threeway" scene? This should be fixed in a second! Thanx to our mommy Sara Jay this big tits at work video is worth 10 points as the other bitch is not even hot.
Comment #2
sublimereviews1 said: Sara Jay is Beautiful! She's done all the scenes, in mommy got boobs and milfs like it big! you guys needed to get her to do a big tits at work on her own, she looks so sexy dressed up in an office suit in the pornstars like it big Cody Lane episode! please please get her doing some more scenes like the recent ones! cheers
Comment #3
OYS_dela2 said: That at work video was Hot :Darryl is Beautiful,Sexy with a Great Body on her Nice Long Legs.Sara Jay is 1 of the Best.She has some Huge Nice Boobs and a Big Ass (Whaooooaaahhh that Ass !!!).That was a Really well done Scene with Both Girls keepng their clothes on especially their Panties.This is how btaw & btas should be(Girsl keeping their clothes on).The part with both Girls in 69 position was so Sexy that I'm asking y'all Brazzers Staff to do some Lesbians scenes.And also,get more Scenes with Darryl(She has only that Scene.She is good Man ) and sara with her Big Boobs and big Ass.PLEASSSSSE !
Comment #4
d5708 said: Please get Darryl to come back for more scenes. She is so hot and gives 110% in her scenes.
Comment #5
steve3de1 said: We want more of Darryl Hanah she is a pretty cute MILF with a passion of ANAL Pls feature more of her on other episodes