Big Tits at Work presents: Whores Dahpne and Richelle fucking and sucking for promotion
Scene Title: Promotion Day
Storyline: Since the last time they met, Christian has followed through on his promise and put in the good word for Richelle to his boss, Daphne Rosen. Only now, Daphne needs to see for herself if Richelle has what it takes to make it to the top. Luckily Christian is back to give her a hand...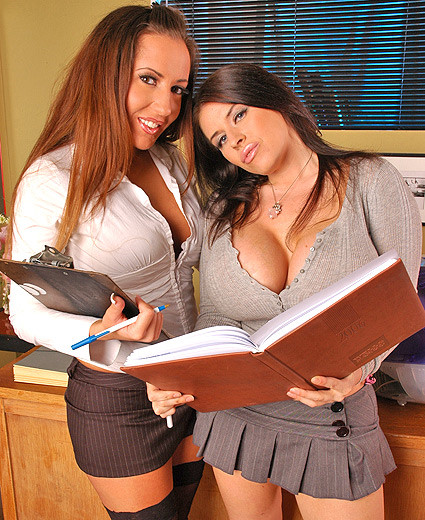 Big Tittied Richelle Ryan and Daphne Rosen Picture Gallery From Her Workplace
What people are saying about: Richelle Ryan and Daphne Rosen - Promotion Day bigtitsatwork episode
Comment #1
eagleabc said: Great big tits at work cum swapping scene and then Richelle licking up the residue made it perfect. And, of course, Daphne's tits.
Comment #2
hinkingman15 said: I really enjoyed this episode. Daphne was smoking hot and she is a very good actress. She assumes the role of Boss Lady very well. I wish she could be my boss in and out the office. She is hot from her pretty face to her smoldering body. Plus, she has some depth to her, which I cannot resist. Richelle should have a nickname, Lust. That one word repeated in my head while watching her. She is the type of woman that makes guys stop, look and wish they could take home.
Comment #3
alldaynallnight said: that girl in grey has HUMUNGOUS titties... like wow, id even go as far as saying too big.
Comment #4
RuckFules said: PS: Richelle looked incredibly hot in her outfit... too bad it came off so early.
Comment #5
shdagr101 said: pretty damn hot if you ask me...cant go wrong with daphne!!! Thats for sure! Keep her coming.