Big Tits at Work presents: Big Juggs fucks the living daylights out of her boss
Scene Title: Big Tit Accounting
Storyline: T.J's accountant Rhyse was crunching some numbers, when all T.J. could think about was crunching her pussy. The man is right, it's his company, he writes the checks, so therefore he owns Rhyse' big tits and wet pussy. Things got a little out of hand and he fucked her like she never had been fucked...s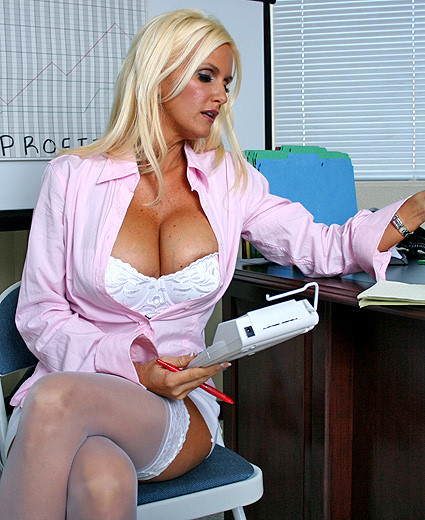 Big Tits Worker Rhyse Richards HD Video
What people are saying about: Rhyse Richards - Big Tit Accounting bigtitsatwork episode
Comment #1
TheLecher said: This was a fantastic big tits at work video. TJ is a reliable stud, and Rhyse is as hot as hell. I totally agree with what robertmalone said about Rhyse playing it submissive in this scene. I thought that totally made the scene. I know that some people don't like the fact that she shed her heels in the scene, but I have to say that I really liked seeing her in her stocking feet. Shoes and boots can be really sexy, but feet are even more sexy.
Comment #2
robertomalone said: For me this was a fantastic big tits at work update. I thought the plot idea was good - I like the idea of the company boss taking command and fucking his sexy blonde accountant over his desk. Rhyse is one hot MILF, and I love the way she's nice and submissive here, obeying the boss's orders. Her outfit was just amazing - I loved the white stockings, and the white skirt and pink shirt; a real fantasy look. And i thought TJ was excellent, too. I enjoyed the way he took the dominant role, and took charge of his submissive employee. I thought he fucked her very vigourously and convincingly, with lots of passionate squeezing of those wonderful, big tits; alright, his cock might not be the biggest in the business, but it's what you do with it that counts. Seeing the gorgeous Rhyse at the end with her face and boobs glazed with TJ's copious cum was a beautiful vision. Thanks, everyone, for another great scene.
Comment #3
Walter21 said: The girl looks terrific - and I'm a fool for their stockings, like ZZ Top said. I don't like the guy - he is way too bossy - he needs to shut up and let the girls work their magic. Also he needs to stop interrupting the action. He is a menace and a fruitcake (am I allowed to say fruitcake or will I offend some people). He doesn't seem to like women despite hid caverjetted weenie. But overall this last video from bigtitsatwork was still strokeable; Rhyse's pros outweighing the cons.
Comment #4
_pantez1 said: This was an awesome set, the white panties up the shirt and the big tits bulging out of her gorgeous white brassiere, nylons, all were perfect, what a great tease. Can we see more upskiirts from behind too with the girls teaseing us showing their white full back bikini pantied asses . Please leave their panties on longer to really tease our cocks lots. I love this site it is excellent . More white full back bikini
Comment #5
TonyBoy99 said: I would imagine that TJ has probably the smallest cock of all the Brazzer's blokes - and seeing him fuck this beautiful, sexy woman is a bit of a paradox... but I have a "place in my heart" for small cocks and I think that is what makes him sexy. He has a hot, shaved, muscular body and he fucks AS IF he had a 12 inch cock, so I give him points for confidence. But as Bashi1 said, it would be hotter to see a small cock bloke being dominated by such a lady! That would be hot!
Big Tittied Rhyse Richards Picture Gallery From Her Workplace