Big Tits at Work presents: Big titted secretary Olivia gets rammed by boss
Scene Title: Office Nympho
Storyline: Olivia's boss is having a pretty lucky day. Not only did he win a sports item in an online auction, but his wife took his kids to his in-laws, all on his day off. All he needs now to make this day perfect is to spend a little time with his favorite secretary...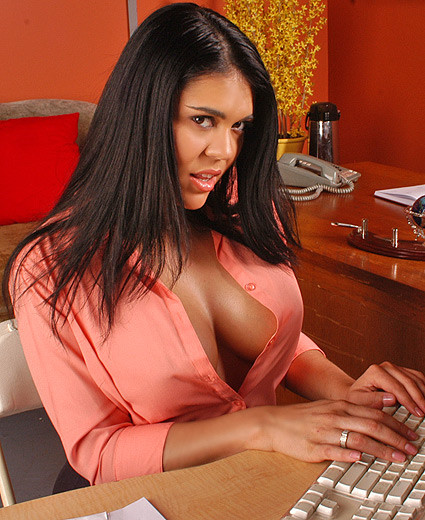 Big Tittied Olivia Olovely Picture Gallery From Her Workplace
What people are saying about: Olivia Olovely - Office Nympho bigtitsatwork episode
Comment #1
Etienne21 said: Another great scene with the beautiful Olivia O'lovely.
Comment #2
killabeez5211 said: i wished she kept that sexy blouse on for just a lil more, just to get fucked in it for a minute or so then take it off...looked really good
Comment #3
eagleabc said: Olivia, you look great, tits, ass and pussy. I seldom pay attention to the male side of the scene because I'm so interested in the woman. This time, however, I must make an exception. This guy looks like a MONKEY.
Comment #4
akshore said: I have a crush on you since I saw u in 'Nasty Girls' DVD. That TREMENDOUS sexuaity and sex-appeal of yours in so irresistible and with time you have become more irresistible.How I wish to be with you!!Fantastic. But do show more of your most beautiful pussy, OPEN.
Comment #5
breasts-ad20a9cf11c65bfe19f3b301 said: Olivia is a brick house. One of the best butts in porn. Hot big tits at work video.