Big Tits at Work presents: Nikki Benz going anything for her coworker attention even a hard fuck on the desk
Scene Title: Nikki Benz Sales Manager
Storyline: Anything harder than getting the attention of the co-worker, is trying to get their attention when you're dressed like a slut. Nikki Benz tried everything to get Jeremy's attention, but he was just too busy to notice her great big tits and very short skirt. Finally, Nikki got frustrated and just had to tell him how much she wanted to fuck him. She started off by getting onto his lap and...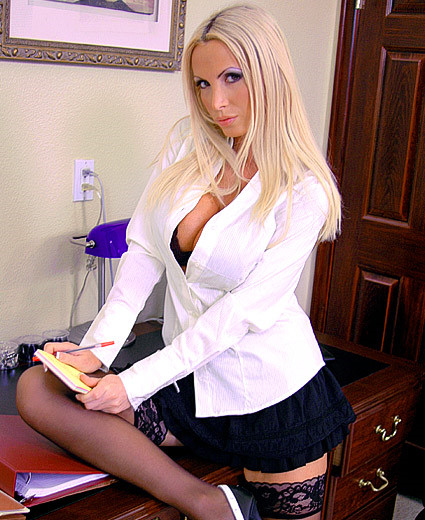 Big Tittied Nikki Benz Picture Gallery From Her Workplace
What people are saying about: Nikki Benz - Nikki Benz Sales Manager bigtitsatwork episode
Comment #1
joe said: Nikki's great oral skills had Jeremy's cock like a telephone pole! I'd like to tongue Nikki's pretty pink asshole! Great oral seque into tit fucking back to oral with dick whipping on tongue makes it hard not to blastoff! Doggie to start off with Nikki's big tits bouncing all over the place! She is the sexiest porn queen! More dirt talk and POV from Nikki PLEASE! "suck on those big tits!" Hell Yeah!!! Great cowgirl and reverse cowgirl! Great big tits at work scene as Nikki helps drain my balls and shoot cum like white missiles across the room! Great cumshot but I'd prefer to shoot it all over her big ass titties!!!
Comment #2
eagleabc said: A solid 10 for Nikki. She looks sexy, she dresses sexy, she sucks cock sexy, she fucks sexy and she swallows cum sexy. What else can one say about her? In a word, sexy.
Comment #3
Nacho_Boobie said: Nikki's the hottest piece of ass to hit this site. Bring her back, and bring back your members!
Comment #4
lleggo04567 said: I watched this big tits at work video thinking how she was lucky to have Eva in her seen. Now I'm glad to see Nikki Benzz, or however you spell it. Eva was hot, but not in the one with the other two girls; unless Eva was the one in the middle.
Comment #5
sa94912 said: HOTTEST PORNSTAR IN HISTORY! she needs to step it up a bit, but maybe she will. I assume she's new, I've only seen her in a few things.I wish she'd do anal, but when your the hottest I guess you don't need to. Get her on the doctor site!!!!