Big Tits at Work presents: Madison fucks her new boss hard
Scene Title: Big Office Distractions
Storyline: Mr.Lee is fed up of having a big titted secretary in the office because it's very distracting. He decides to interview a couple of secretaries. This time around he is looking for a woman who less busty and very conservative. The first couple of interviews didn't present the kind of woman he was looking for until Madison James entered. Very conservative type, with not much sex appeal...she was perfect and of course hired. The very next day Mr.Lee's distractions would return as Madison came into work looking oh so sexy with a pair of perky tits that a blind man wouldn't be able to keep his eyes off of. Mr.Lee decided he's not going to fight his urges anymore and fucked his new secretary and her big tits on his desk!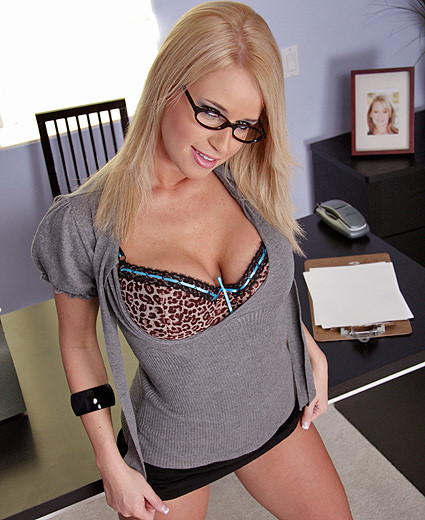 Big Tits Worker Madison James HD Video
What people are saying about: Madison James - Big Office Distractions bigtitsatwork episode
Comment #1
robertomalone said: Hot! Hot! Hot! Madison James is a super sexy babe. She has very beautiful facial features, and a quality of sophistication about her - and no, it's not just the glasses. Like Kasparov, I loved the transformation from the 'ugly duckling' (even though she looked just as hot in her dowdy clothes) into the office sex bomb. Her body is gorgeous, and our friend Keiran works her with his customary panache, as well as adding great comic touches (asking his secreatary to make him a cup of tea after he's sacked her!!). Three cheers to all concerned, and here's to a lot more of Madison James (I'm looking forward to watching the 'Real Wife' scene with Madison, Keiran, Danny and Tanya - should be hot).
Comment #2
BiV_aka_funkdoc said: I was surprised Madison made her way to ZZ, I remember her now from RK. She's a real cutie, but it looks like she chose one surgeon for each boob; they're not bad alone, but next to each other they look weird. I didn't realize how thick she is on the bottom half. That can be toned up a lil bit. This was pretty hot though all the way thru, and I'm looking forward to seeing Madison in her RealWifeStories scene...
Comment #3
ppppppooi said: She is very cute and looks great with a dick in her mouth. I really like her smile and she has the look of someone that would be very friendly in real life. She has a pouty look that is very attractive. More scenes with her please, but next time have her make some surprised looks at the hard dick, shots of her staring cross-eyed at a dick and have her do some intense dick worship. Thanks!!
Comment #4
MissSnoogans said: Finally...Madison James has come to Brazzers and it starts with a big tits at work video. I've been a fan since she was kickin it with Molly on WLT. She's still as sexy as she was then. The first appearance on camera I thought she was a Quaker. She came back and Keiran sold it well with the pen spit. I wasn't into either of them giving oral. His head was in the way of her pussy and what he was doing to make her feel so good. She really couldn't deep throat him like he was asking and it ruined the moment. Once they moved off the table, is when the temperature rose. I liked the cowgirl cause she teased his cock and never went fully down on the length. I loved that he gave us a dose of the cradle with beautiful ass movement. I liked how he modified the reverse cowgirl to the side. The doggy had plenty of bite. Even a wonderful cumshot from Keiran. Nice ZZ debut Madison and cheers Keiran. Snoogans!
Comment #5
jhood20061 said: How is it why they are shooting more before the action begins? There's a great opportunity for some bending over tits and ass shots. teasing , etc. But no, girl enters, walks over, and stuffs dude's head in her breasts within 5 seconds? -- Some scenes on this site have a lot of thought put in and are great, but many completely seem mailed in like this one.
Big Tittied Madison James Picture Gallery From Her Workplace