Big Tits at Work presents: Busty Wife gets fucked by her lawyer after their meeting win
Scene Title: All is fair in Love and War
Storyline: Miss.Summers got herself a high powered lawyer to make sure she took everything from her cheating, bastard husband...excuse me ex-husband now! Payback was definitely sweet as well as big for Miss.Summers in the end. As if the lawyer's commission wasn't big enough, she decided to reward him with her big tits as well! At the end of the day, she got the house, car and a good fuck!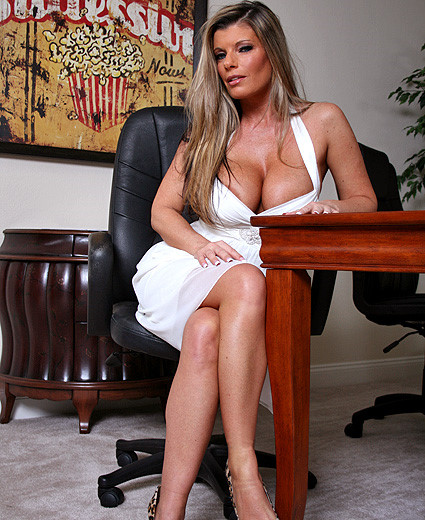 Big Tits Worker Kristal Summers HD Video
What people are saying about: Kristal Summers - All is fair in Love and War bigtitsatwork episode
Comment #1
Ricman45 said: The perfect MILF/dick-riding experience. A true professional slut.
Comment #2
Nick said: Kristal Summers is that woman that you see at the grocery store or anywhere else and just think.....HOLY FUCK! IT'S THE PRESIDENT OF THE MILF ASSOCIATION!! Don't listen to any of the bullshit people are writing...Kristal is hot as hell! s
Comment #3
MissSnoogans! said: This actually could have been alittle better of a big tits at work script. Like in Liar Liar when Jennifer Tilly was guilty as hell but came out on top. So Alec could have made up shit like neglect, spousal abuse, or even small cock. The ex hubby would have said "neglect is cause I worked my ass off to give a better life. Spousal abuse is cause she would never fucking stop nagging me about working and if my cock is so small. Why didn't she let me fuck her in the ass?" So then his lawyer tells him he better just settle for what she wants or it could get worse. So Alec says I will send you my bill and Kristal says I can take care of all that for you now. She pulls her boobs and he begins to suck. Sorry had to get that off my breasts. It was a slow day at work. I think katie is wrong about how Alec looked this time. He was extremely hot with his beard. The dress that Kristal wore reminded me of Marilyn Monroe in the Seven Year Itch and let's just say some like hot. So the girls looked stunning in their dresses. I liked how Alec let Kristal fuck him when she was on top. I loved how Alec teased and pleasured her at the time with the use of his cock. Doggy was sexy. Yes the cumshot still lacked some fire power but he missed again with his second shot. What made the screen real hot for me was the way she moaned. 2 erect nips, Snoogans!
Comment #4
dangerman said: Great to see Kristal back... Definitely the best MILF on this site. I agree with Katie11 she needs to get fucked by Johnny Sins not this guy, he's passed it!!
Comment #5
katie11 said: kristal ther is no doubt you are one of the hottest milf's on the brazzrer website. you are so hot you deserve to fuck young studs and why they paired you up with alec (40+) i can't cum more than 1/2 ounce knight i don't know. alec that was a fucking horrible cumshot and you are sore on the eyes for the lady fans. kristal, you looked hot as hell with that outfit and you fucked so nicely you almost made alec look ok!!! why they let alec do facial scenes i have no idea. alec you have a nice size pole but man it's time to retire and let some of the young guns have a chance at babes like kristal. brazzers let's see kristal fuck someone else like johnny, tommy, cheyene, kerian, etc. anyone except for alec again!!!! maybe a kristal thereesome next time with curvy babes like lisa ann, sienna, austin, brandi, or jordan!!!!!
Big Tittied Kristal Summers Picture Gallery From Her Workplace