Big Tits at Work presents: Kate Frost the busty school director gets pounded by 2 of her students
Scene Title: The Librarian
Storyline: Kate Frost, the new busty school librarian, just caught Jeremy having sex with a cheerleader in the library with the help of the new school security cameras. Now, to avoid getting expelled, Jeremy and his friend need to show what they're willing to do to Miss Frost in order to stay in school...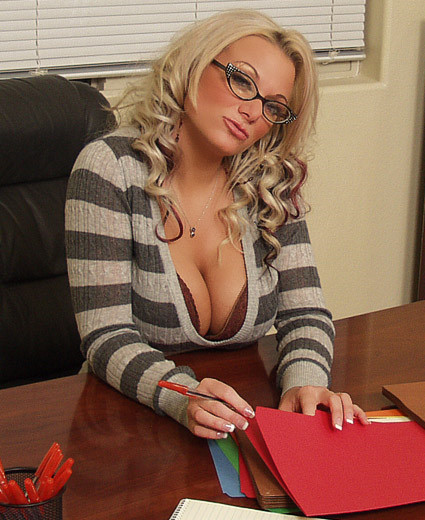 Big Tittied Kate Frost Picture Gallery From Her Workplace
What people are saying about: Kate Frost - The Librarian bigtitsatwork episode
Comment #1
roadking2004 said: That is so freakin hot ! Kate taking two facials and gobs of gooey cum on her face. Kate, do you mind if I give you a third while you are at it ?? :-)
Comment #2
rooster57 said: kate s hot!please get rid of the glasses,you dont need them on to get banged.would like to see you to take in the butt&pussy at the same time.come back for more
Comment #3
dickinsider1 said: This was a very hot big tits at work scene. Katie was amazing. Hope to see more of her.
Comment #4
friday11 said: Unbelievably sexy. She is the reason I joined this site. The ending was simply spectacular! Simply amazing!
Comment #5
drooge said: A fun and raunchy clip! The question is where have you put the one minuter clips to download. I started downloading them yesterday (Australian time) and when I came to finish off they had gone. Please reinstate the link so I can finish my download.