Big Tits at Work presents: Busty office girl Jodi Bean gets fucked Hard
Scene Title: InCUM Taxes
Storyline: Jodi is in desperate need to get her taxes finished since they are due in one day. However, her accountant Mr. Mountain is reluctant to do them since he is swamped with so many other customers. Mr. Mountain pities her and agrees to do her taxes just as long as he gets to see her tits. Jodi refuses and leaves but soon realizes he is her only hope. When she returns to the office Mr. Mountain uses this to his advantage and feels the need to punish her for the amount of work he will have to do for her.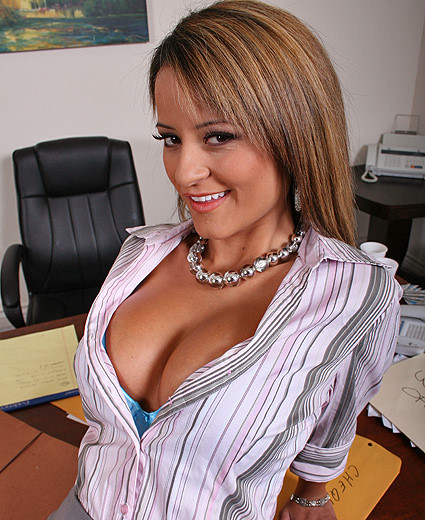 Big Tits Worker Jodi Bean HD Video
What people are saying about: Jodi Bean - InCUM Taxes bigtitsatwork episode
Comment #1
wolfal said: Jodi does love sex and big cocks. I saw her in a scene w voodoo who has one even bigger than k and she came at least 3x just needs to warm up properly. As you see she took Danny with no issues. One thing that stands out with Jodi is she loves to put outfits on take them off and put them back on with those perfect tits - lingerie works well, bet she has a stripper gig - she would be a big money maker. I have also seen Jodi do Billy Glide - she is perfect for this site and seem quiet and pleasant.
Comment #2
bigheadedm1 said: shes is amazingly beutiful, i mean there are are beutifuls girls here, but she is well fine
Comment #3
MissSnoogans! said: I could see the way the story was going. Jodi wasn't going to get the help she needed. Believe it or not the only thing that didn't impress me was the bowl of head. When she fucking cums, you know it's real. She loves screaming it at the top of her lungs. She still didn't want any part of the facial. At least she has a scene that shows she has got the potential. Snoogans!
Comment #4
BiV_aka_funkdoc said: Kind of a lame setup that has been done before, but I actually thought this may have been her best big tits at work video yet relesead, she did some deep throating, and I think Danny brought something a little more out of her than she has shown before. Plus she bounced nicely in reverse cowgirl. And yes, what made it hotter was how they were almost fully clothed for a lot of the scene. I would like to see this in more scenes. This was good tho and I hope Jodi can step up her game even more next time.
Comment #5
hrdrokrjf1 said: i wanna see that chick from the beginning of the scene. Its those mysterious women who dont look like perfect 10's that are fun to watch. I bet she would fuck the shit out of a dick!!! Brazzers, lets see a "average woman" site where the chicks arent covered in make up and have 12 inch waists. i wanna see real women!
Big Tittied Jodi Bean Picture Gallery From Her Workplace