Big Tits at Work presents: Jenna Presley fucks her rich partners big cock
Scene Title: Cops and Donuts
Storyline: Officer Presley is working on something big so she sends Detective Lee to fetch the daily donuts. With her change he buys a lottery ticket and wins a million dollars. He then tricks her into saying she would let him do anything to her. When Keiran shows her the ticket she gets really horny and fucks him like a million dollar baby.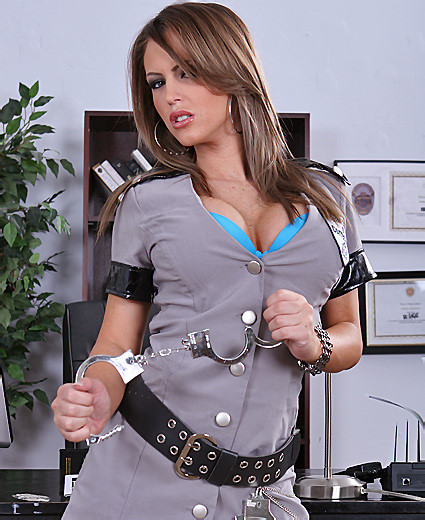 Big Tits Worker Jenna Presley HD Video
What people are saying about: Jenna Presley - Cops and Donuts bigtitsatwork episode
Comment #1
jeebsc3 said: Holy crap this is an amazing big tits at work video, wow. She is amazingly hot, awesome tits, gorgeous face and really looked like she was into it! Great angles and great sex! Nice one Brazzers!
Comment #2
khafagy71 said: brazzers she is worth every penny. pretty ,fantastic , one of the best babe I have ever seen.
Comment #3
BiV_aka_funkdoc said: Wtf? You guys just did a "winning lotto ticket" scene a week ago. Pretty dumb. However, Jenna Presley, in addition to being modle-steez gorgeous, is one nasty lil hewaa, and that is where it's at. Forget her flawless looks, but add that with her filthy mouth with "you like that little cunt" and "treat me like the skank that I am" is some of the hottest shit EVER. Did she squirt during the spoonage and you guys missed it? I really don't care so long as you keep booking this chick. One of the hottest, if not THE hottest girl goin right now...
Comment #4
High5 said: Jenna is a very nice and very sexy lady, but the positioning is standard Brazzers style which means that Jenna and her sexy beauty is not shown in the best way and to cast Jenna with a very ugly and untidy caveman from the stoneage does not help at all. Jenna is top of the pops. The dude is rock bottom.
Comment #5
laidoff2 said: damn who needs a story with a rack and body and eyes like that just 45 minutes of POV cock sucking, POV titty fucking and a RCG creampie, or a RCG pull out jizz blast on her belly and I'll watch it every day, especially if she's getting fucked around a cop suit... FUCK THE POLICE!
Big Tittied Jenna Presley Picture Gallery From Her Workplace