Big Tits at Work presents: Jenna loves fucking Johnny Sins at the office
Scene Title: Sandwich my cock between your lips and eat it
Storyline: Jenna's been stealing lunches out of the fridge every single day for the last month! Hungry Johnny is pissed off and determined to find out who the culprit is. So today he decides to hide his phone in his lunch bag. When the lunch turns up missing again, he quickly borrows a cell phone and starts calling his. Much to his surprise the ringing is coming from Jenna's desk! Everybody knows not to fuck with Johnny's lunch! For naughty girls like Jenna punishment is absolute and Johnny's just the man to serve it!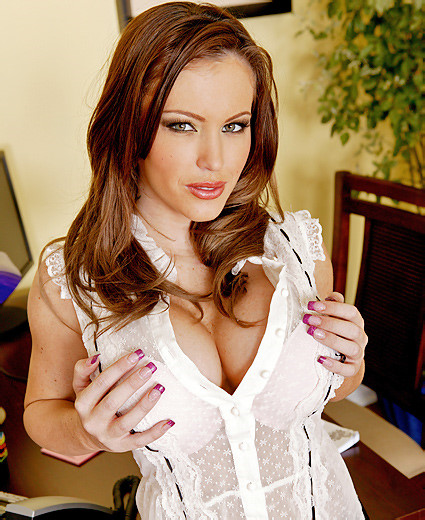 Big Tits Worker Jenna Presley HD Video
What people are saying about: Jenna Presley - Sandwich my cock between your lips and eat it bigtitsatwork episode
Comment #1
bansheee69 said: fuck what awesome tits! love this slut when she cums on a dick!
Comment #2
pornmerchant1 said: OMFG this big tits at work video was great!
Comment #3
BUFFDADDYDX said: This story was hilarious. Shit was funny when Johnny came after Angel dude had that Oh Shit! I'm bout to get my ass fucked up look. I was rollin when Johnny first stepped in the office and Jenna hurried up and threw away the sandwich.That bra Jenna had on made her tits look fuckin lovely. The sex was good pretty intense. My only gripe is the regular cowgirl was way to short. I wanna see that ass Dance more. The cumshot at the end was nice, Johnny's been droppin his children off all over these chics last few scenes dudes been in
Comment #4
MissSnoogans said: This was pretty good story and scorching hot sex. I like that Johnny is spending some of that contract money on wardrobe. It makes him hotter than he already is. Nicely done walk in by Amy too. That should be thrown in every once in awhile. I would have liked her to have kept her glasses on. He must of been hungry the way he was eating her ass and pussy. The fishnets were on point too and don't understand why they were removed. Jenna apparently has a leg up on the competition the way she fucked in this big tits at work video. They made a point in a several positions that had her leg up in some way or other. The best was when she was riding him and had her foot on the desk. I love the squirt stain she left in the chair. Another nice facial and no wonder she ate some more. She worked up quite an appetite. Snoogans!
Comment #5
PabloEscobar said: she is THE NEW brazzers star!! a big dream!! she has one oft the hottest and nicest bodies ever! she is a real pornstar.
Big Tittied Jenna Presley Picture Gallery From Her Workplace