Big Tits at Work HD presents: Nudist Colony Report episode
Scene Title: Nudist Colony Report
Storyline: Big Tit Reporter Jayden Jaymes is doing a breakthrough report on the Brazzers Nudist Camp. She got in but was asked, her and her crew to comply with the rules and be fully nude. This did not help as they got kicked out when her cameraman Charles Dera got an erection from watching all these hot nude babes. Jayden is a professional and wants to finish the job, even it means blowing for another one in between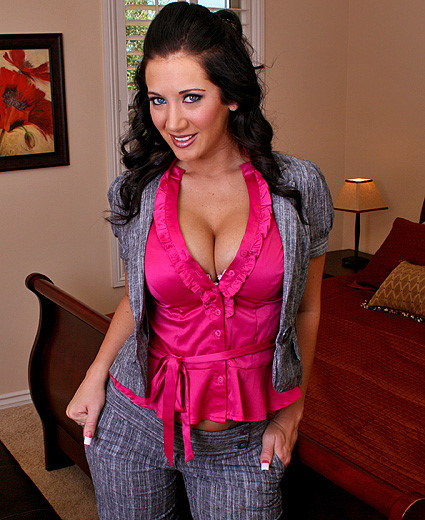 Big Tittied Jayden Jaymes Video from her workplace
What people are saying about: Jayden Jaymes - Nudist Colony Report bigtitsatwork episode
Comment #1
Kahless said: I'd rate Jayden as a 9.9. Her body and tits are absolutely fucking perfect. But that ugly-assed tattoo on her left hip makes me want to cry every time I see it. Were it not for that shitty looking thing, I'd give her a 10. Man, what makes beautiful chicks want to permanently fuck up their bodies with gross tattoos? Tattoos belong on guys in prison gangs, not on beautiful women. It's a sad fad that I hope will soon pass.
Comment #2
brocklanders84 said: I have never commented before, but this is my favorite big tits at work video on Brazzers. 11/10.
Comment #3
HokutoWolf said: Nice jayden! i dug this scene i would be blown away to see you do anal i remember seeing u in a scene on bangbros when my bro was shooting for them a while back youve come quite along way since then and youve become amazing and your sexier than ever.
Comment #4
frl0291 said: Jayden is the hottest girl on this site.If she did a scene with alexis texas that would be the greatest scene ever
Comment #5
verme1eb said: Best video from big tits at work I have scene so far on the site. For some reason I couldn't get into Jayden Jaymes before this scene, now I can't get enough. Premise is outstanding, Jayden looks like a godess and has some of the most classic lines in a scene ("I'm a professional", etc.), and the fucking couldn't have been better. Great job Charles and Jayden!