Big Tits at Work presents: Isis Love proves her tits are not fake by fucking her coworker
Scene Title: Working Hard In The Cubicle
Storyline: Keiran and his buddy are at work and are curious to know if the new hot girl's tits are real. Keiran gathers enough courage to ask her and she is more than willing to show him if they really are fake or real.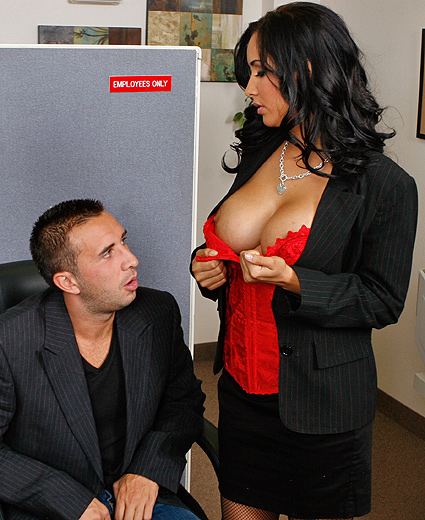 Big Tits Worker Isis Love HD Video
What people are saying about: Isis Love - Working Hard In The Cubicle bigtitsatwork episode
Comment #1
wow.... she is sooo fucking hot! please fast more! please more black stockings! isis is one of the hottest pornstars!!!!!
Comment #2
I'll probably get branded a wuss for saying this but I'm tired of seeing obviously dry pussied turned off women getting impailed at 3 strokes per second in these fuck scenes. In the 25 or so women I've been with in my life exactly ZERO have enjoyed getting "pounded". The lack of natural lubrication on these chicks in these scenes is an obvious giveaway that they are anything but turned on. A suggestion...slower fucking with more attention to getting the chick off. Tell your female stars to learn lines other than "Oh yeah...oh God" and please...pull the camera back a foot or two will ya. NO ONE wants a lesson in gynogological anatomy. I'd like to see the whole scene you know...legs, face SHOES!!!
Comment #3
Here's an idea...hire another guy other than Keiran. He's sweet, but how many times are you guys going to use him...
Comment #4
Completely agree with cknob101 - slower fucking so that the women actually get properly aroused, rather than just getting pounded and having to pretend they are would be amazing. Go on brazzers - break the mould, try something different!
Comment #5
You know how you watch your favorite TV show. It may have a certain character on there that you just love. That's how I feel about Isis Love. When I see her in action, I love the control she takes in a demanding way. Just look how she pushed him in the seat. She shoved her boobs in his face. Once Keiran stuck his cock in her it was over. He took control and never gave it back. He pumped her hard in every position but I miss the character that I've grown to love to watch perform. I'd lick to see them fuck again but a turn of the tables. Snoogans!
Big Tittied Isis Love Picture Gallery From Her Workplace