Big Tits at Work presents: Hunter Bryce into inter office fucking
Scene Title: Loss of productivity
Storyline: Johnny Sins just figured out why there's been a loss of productivity in his company lately. Hunter dresses way too sexy for work, distracting her fellow co-workers. He knows she dresses like a skank because she wants some cock. So he's going to give her the biggest cock she's ever had.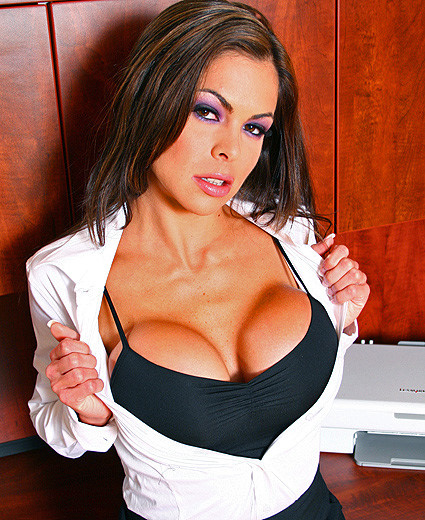 Big Tits Worker Hunter Bryce HD Video
What people are saying about: Hunter Bryce - Loss of productivity bigtitsatwork episode
Comment #1
eevilangelo said: Hunter is what this industry should be all about! REFRESHING new talent! Yippie ka ye! (LOVE those tanlines btw) Great comment, fusten101, i agree
Comment #2
ddnewman said: She should have kept her high heals on. Would have made the standing doggie, scissor doggie, reverse cowgirl even better. To me the female performers should never take them off.
Comment #3
fursten101 said: I hate to bash another comment, but Eyeluvhorses2 should keep his dumb-ass comments to himself, since he doesn't know what he's talking about! That was clearly a woman who not only has the capacity to squirt, but isn't afraid to do so! I should know, since my wife of 25 years squirts like a river, and I can't get enough of her! If a girl has to "fake it," then she doesn't belong in the adult film business. Any girl or woman can be a squirter, and anyone can be taught how to make their girl/woman squirt like a banshee if they want them to. Unfortunately, too many men are selfish bastards, and only care about themselves. It's a crying shame. Personally, I thought Hunter was incredibly hot, and I hope more of her squirting videos appear on this site, and in other full-length videos!
Comment #4
eyeluvhorses2 said: WTF!? Did this dude have a razor blade on the tip of his dick or something? Shit, Ive never heard a chick scream the way this chick was screaming. Im not into chicks pissing on themselves and trying to pass it off as jizz - nah, thats not a good look... This chick was all right at best... overkill with the pissin...
Comment #5
katie11 said: that was one hot big tits at work fucking scene. camera man thanks for fucking up the only part of the scene by missing the start of johnny's facial shot. hunter your dick sucking/choking was amazing and the rc dick sucking was smokin hot. johnny the standing doggy with hunter's arms pinned behind her back was hot (showcased your long pole). hunter thanks for taking a facial in your debut. you deserve to fuck ramon or kerian in your next scene especially the way you fucked johnny. keep that tempo, dick sucking, and facials cumming and you will last long in this industry. oh yeah, camera man that fucking sucks when you miss the facial since we don't get to see a lot of them (that made this scene a 9 instead of a 10 and it wasn't the performers fault)!!!
Big Tittied Hunter Bryce Picture Gallery From Her Workplace