Big Tits at Work presents: Carmella and Holly getting fucked silly
Scene Title: Truth 'n Tits
Storyline: When Keiran gets accused of sharking and the polygraph can't seem to detect if he's guilty or not, agents Carmella "Big Boobs" Bing and Holly "Hooters" Halston will use their natural instincts to bring the criminal to justice...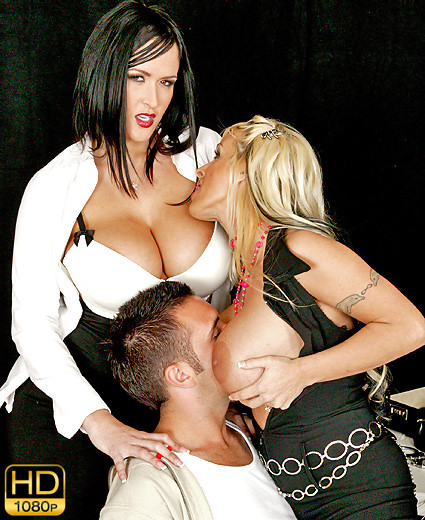 Big Tits Worker Holly Halston and Carmella Bing HD Video
What people are saying about: Holly Halston and Carmella Bing - Truth 'n Tits bigtitsatwork episode
Comment #1
jordan5156 said: You've got to ask your self this one question. Do you like big tits? Well, do you? Can I get a hell yeah. Because stone cold said so!!!!!! and that is the bottom line.
Comment #2
robertomalone said: Yes, Carmella is overweight. Yes, she needs to lose some pounds. However, I still find her sexy. It's just that when you know how awesome she used to be...Anyway, this was another hot big tits at work video, and big tit devotees will be in Seventh Heaven. Some good POV camerawork, especially the overhead when the girls get down to finish Keiran off, and Holly licking the cum off Carmella's massive tits was a treat!
Comment #3
prec8ya1 said: Carmella don't let these idiots get to you. YOU ARE THE HOTTEST PORN FEMALE EVER. if i dont see another scene next month with u in it im gonna die
Comment #4
fuckacop said: carmella, you've got a pretty face, an unstoppable rack, nice legs, a great ass, and a seemingly bottomless but pleasantly tight and wet pussy. please just hump off the belly chub, hell we're already paying to watch. reverse cowgirl 20 minutes a day. Or ask Holly what the hell she's doing, swear you can bounce a quarter of every piece of her... even the real ones!
Comment #5
MissSnoogans said: I liked this big tits at work episode quite abit. The camera certainly did a wonderful job of making the boobs a focal point. That titfuck they pulled was seriously fucking hot. I promise I love Carmella but for right now just film her in cowgirl and doggy when she's taking part of a threesome. Speaking of threesome, that triangle they pulled of several times during this. It made Phil Jackson say better triangle offense than I got. Other than that huge blunder from the editors. This was done to my liking. Holly and Carmella teamed up very well together with Keiran. Terrible acting by Bing though at the end. She could have sold it like Holly. Snoogans!
Big Tittied Holly Halston and Carmella Bing Picture Gallery From Her Workplace