Big Tits at Work presents: Helena Sweet says yes to everything including big cocks
Scene Title: Leggy Blonde
Storyline: There's a new foreigner in town, and she just landed herself the front desk job. Everyone keeps making fun of her, saying she cant speak English well but when Keiran visits his wife he meets Helena and sees she is much more than a leggy blonde that can't speak English, he sees in her everything his wife has stopped becoming.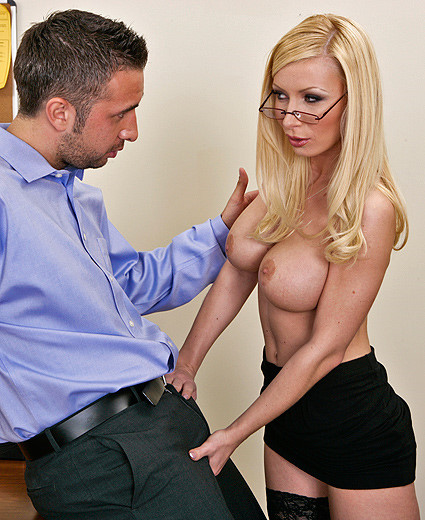 Big Tits Worker Helena Sweet HD Video
What people are saying about: Helena Sweet - Leggy Blonde bigtitsatwork episode
Comment #1
robertomalone said: Another hot office scene, another good performance from our man Keiran, and another very hot babe in Helena Sweet. This gets my vote!
Comment #2
BiV_aka_funkdoc said: Good story, I like how you guys played on Helena's lack of English. But what's with the constant references to the Stern show? I really like Helena, she's damn sexy, even if her face does reming me a little bit of Lisa Kudrow. The looks she was giving him out of the side if her eyes while laying on the table were mezmerizing. Don't know why she took em off in the first place, but I'm glad she put the glasses back on. Nice.
Comment #3
MissSnoogans! said: This was a cute story. I'm glad everyone involved had some fun with it. I liked the replays of the top being pulled down. Helena could make hot ice melt. Keiran has been putting out some good doggy but paused too much for me this time. I believe she wanted him to pump like she was a flat tire. She's even more stunning with her hair down. I thought I was under spell the way her boobs moved during doggy and reverse cowgirl. Good thing she put her glasses back on for that cumshot. He's been like a Red Ryder BB Gun, he will put your eye out. Snoogans!
Comment #4
bansheee69 said: this fuck bunny is hot.........love these euro babes! love the stockings!
Comment #5
Fentoozler said: Does this big tit scene have any titfucking?
Big Tittied Helena Sweet Picture Gallery From Her Workplace