Big Tits at Work presents: Busty real estate agent Gianna Micheals showing a big house
Scene Title: REAL Estate
Storyline: Selling real estate takes some serious confidence. So when Gianna realized that her confidence wasn't going to make the sale, she turned to the next best thing, and allowed her body to make the sale. No wonder she's one of the best..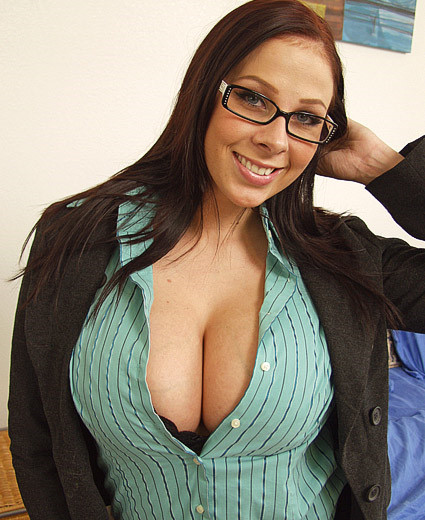 Big Tittied Gianna Michaels Picture Gallery From Her Workplace
What people are saying about: Gianna Michaels - REAL Estate bigtitsatwork episode
Comment #1
robertomalone said: Oh boy! Gianna is the supreme slut who eats cock for breakfast, lunch and tea; what a babe! I love how she comes on to the bumbling client int his bigtitsatwork video - so hot! I tell you, I would love to be fucked by Gianna Michaels!
Comment #2
kulleo85 said: She's so sexy. I get hard just thinking about her beautiful smile, tits, ass, hips, legs, pussy, tits, legs, tits, etc. He's the biggest nerd ever, and he gets to lick and fuck Gianna Michaels... lucky bastard.
Comment #3
Fester1 said: Gianna shows her fantastic legs in the shortest skirt in this scene. Her earthy laugh and bouncing tits just do it for me. Go Gianna!
Comment #4
d22e61 said: Apart from being an incredibly beautiful woman, Gianna is one of the very few women in this world who know how to rotate their hips when she's on your lap. Considering this nearly makes you ejaculate just looking at her, this must be the acme of sensual feeling to really experience her!
Comment #5
BBDynamo said: HOT HOT HOT. Gianna, once again does not disappoint, from start to finish. The way she moves, the way she dresses, her figure, her beauty, her intelligence, her role playing, everything was superb. The scene and script were great. It was only really let down by the guy I am afraid. Otherwise this scene would have been another 11/10 for a scene for Gianna. I think this guy was over-awed by Gianna (she was unbelievable hot I have to admit). Please try to have someone who can keep up with Gianna.