Big Tits at Work presents: Huge titted Dona Doll gives a severance package to her bad employee
Scene Title: Severence Package
Storyline: Jim is a really bad employee. He rarely does his work, he comes in late, and worst of all he fucks the interns and secretaries. Luckily for Jim, Donna likes bad boys. She envited Jim into her office to fire him, until she realized that she can't resist the fact that he'll do anything to keep his job...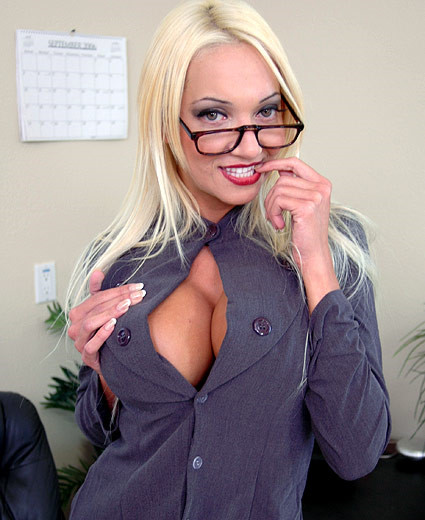 Big Tittied Donna Doll Picture Gallery From Her Workplace
What people are saying about: Donna Doll - Severence Package bigtitsatwork episode
Comment #1
eagleabc said: Good job Donna, but you need to swallow that cum, not waste it. And Brazzers needs to get rid of that walking tattoo advertisement.
Comment #2
steelman201 said: Donna great make-up and love your slutty outfit...would of enjoyed seeing a close-up of your pretty sperm bank...I think my mom would like to strap-on fuck you...she likes bitchy big titted blondes
Comment #3
sa94912 said: She is hot as hell. The roid-head has got to go!!! why is he in so many big tits at work videos???? oh yeah, congress wants a word with him! I hear the only way into the biz is you need to have dated a porn star, who the hell dated this clown???
Comment #4
littleboy said: Damn you make my cock hard Donna. I've jacked off to both of your movies (this one and the one on Mommy Got Boobs site) all night long. You make me so fucking horny that I jacked so hard I actually have bruising on my balls now, that's how fucking hot you are...
Comment #5
boxingjudoka said: Dude, you could always become a powerlifter, bodybulder or a stud for little old ladies!