Big Tits at Work presents: Devon Michaels fucks her client in her office
Scene Title: Get a job!
Storyline: Being a welfare representative, Devon Michaels has to deal with all kinds of people. This time a guy that doesn't seem to want to get a job is asking for an extension. But she wouldn't grant the petition so easily, she would make him "work really hard" for it...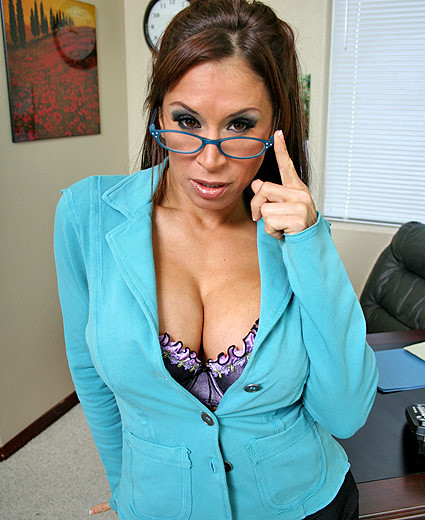 Big Tits Worker Devon Michaels HD Video
What people are saying about: Devon Michaels - Get a job! bigtitsatwork episode
Comment #1
robertomalone said: This is an incredible big tits at work video! It was the first time I have seen Devon Michaels in action, and I mean to make sure it won't be my last. I completely endorse the comments made by rafraf; there really is an intensity about her performance, and I can understand the comparison with Ashlyn Gere (for me, the greatest pornstar of all time). The section where she's astride her partner while he is sitting on the chair, and she grinds him slowly and sensually is powerfully erotic. I liked rafraf's comments because he (and I'm presuming it is a he) is clearly an intelligent individual who writes well, and because he has a respect for the ladies which is often sadly lacking in some other reviews. You often here the cliche that porn is ugly. Well, maybe it can be. But when it's done like this I would argue that it is a thing of beauty. Keep it up, Brazzers.
Comment #2
rafraf said: Without a doubt, my favorite porn star. She's like the new Ashlyn Gere in the super intensity she brings to every fuck on camera. I was really impressed that Devon decided to go into hardcore in her mid-30s and with a successful career as a fitness and glamour model. I would like to think that her decision was based not entirely on the money -- although that never hurts -- but because she felt that she really wanted to express her sexuality on camera in the most uninhibited way possible. Thank you, Brazzers for Devon's three recent scenes. May there be many more. Whether she's riding the cock, taking it from behind, or kneeling down to take the sperm in her face, Devon always looks totally in control of every scene. She truly makes the world a better place every time she takes a cum shot!
Comment #3
jeter4523 said: She is the best! More Please!!
Comment #4
tpxmetsfan said: i've been waiting for a devon michaels update for a LONG LONG time, thank you brazzers for this big tits at work video
Comment #5
bigdaddy51 said: Good to see Devon Michaels back in action.... Bastone I have a great suggestion for Mommy got Boobs update.... Devon Michaels teamed up with Austin Kincaid.
Big Tittied Devon Michaels Picture Gallery From Her Workplace