Big Tits at Work presents: Delta sells the house with her sexy big titted body
Scene Title: Anything To Sell This House
Storyline: Power realtor seller, Delta White is on to another prey, Charles Dera, a simple guy that is shopping around for a brand new house. Knowing selling techniques by heart, Delta knows exactly what to do to motivate him into closing the deal, even show him how good the master bedroom is. Charles will also have to test the matress springs to the fullest by pounding Delta deep inside it to make sure it's a good one.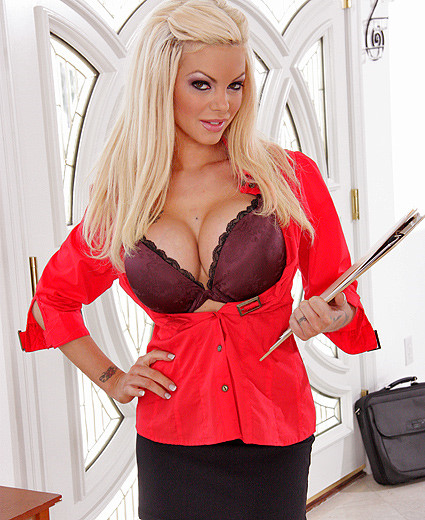 Big Tits Worker Delta White HD Video
What people are saying about: Delta White - Anything To Sell This House bigtitsatwork episode
Comment #1
runshouse21 said: Delta, you are everything but too plastic. don't listen to that kind of bullshit. You are one hell of a hottie and don't let anybody tell you something different. Hope to see a lot more of you here!
Comment #2
graham121 said: Great big tit at work debut scene from the gorgeous Delta. Loved the way he got straight down to banging that cute little cunt before she sucked his cock. She can only get better, especially if she starts talking dirty.
Comment #3
owned_by_haxxors_lol said: It's just perfect that Delta is now on Brazzers! Hope she does piles of scenes. Great body, very cute and always enjoying herself. Love your accent too!
Comment #4
Deltawhite said: hello i want to say thankyou to all who had lovely things to say bout me ....so thankyou xxx also i was very nervous as it was first time shooting in america plus for the people who said about me being to plastic i have only had my boobs done!!! also i am quite cause im not fake in that department....i dont moan as soon as a cock enters me...i enjoy it...if i was moaning and screaming i would not be able to enjoy what was going on!! anyway thankyou to all sweet comments x
Comment #5
robertomalone said: I'm very happy that Brazzers's have enlisted the significant charms of our very own Delta White. I thought this was a good, hot scene, if not particularly spectacular. I agree with some of the other comments that Delta could be a little nastier and raunchier, but even like this she's sweet and sexy, and I liked the rapport with Charles. I think Delta has quite high ambitions in the business, so I hope she gets a few more scenes in for Brazzers before she goes off elsewhere.
Big Tittied Delta White Picture Gallery From Her Workplace