Big Tits at Work presents: Deauxma takes young mans face between her titties and does the motorboat
Scene Title: Sex At The Work Place
Storyline: It's hard getting a job these days and it's harder trying to keep one! Especially if you always get fired for fucking on the job! Such is the case with the interviewee who comes in to see Deauxma. Once she learns that he lost his last three jobs because of sex, she figures why not fuck to get the job? Before you know it, she has those gigantic tits wrapped around his cock and bouncing all over the place as he fucks her for a job! Brazzers at its best,baby!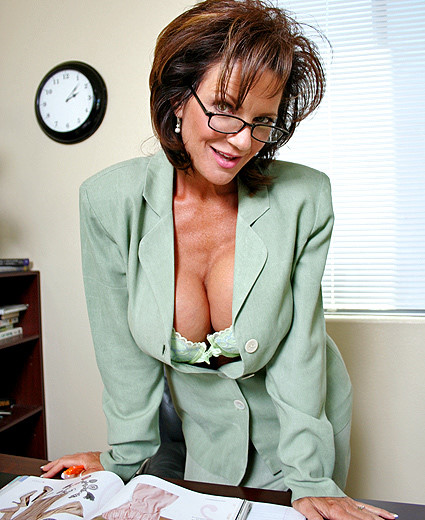 Big Tittied Deauxma Picture Gallery From Her Workplace
What people are saying about: Deauxma - Sex At The Work Place bigtitsatwork episode
Comment #1
robertomalone said: What a scene! Deauxma is so sexy as the mature company boss who seduces the geeky young interviewee (I don't know his name, but I know he is an extra in a lot of scenes, but this is the first sex scene I've seen him in, and he was really good! He should be proud of his performance). Deauxma was brilliant as the randy cougar who traps abd devours her helpless little victim. She is just fantastic for a lady of 50 plus, and I think it's brilliant that she's got family. I would be really proud if she was my granny, and I really mean that. She's living life to the full, and clearly loving every minute of it. Good for you Deauxma! Respect!
Comment #2
Celtics1 said: I love Deauxma, she's very hot girl who got much more sexual energy than many younger pornstars. Deauxma is almost 50 but she knows how to satysfy these young guys. The age difference between her and these boys makes that she could be their mommy:) Very nice woman with big tits, I heard she's married and got a son. Maybe someone knows what do her family think about that profession? Her husband should be jealous:))
Comment #3
03916 said: Deauxma is great. Top qualities are her ways to secuce (in her acting, language, clothes, etc.). I would to see her play a mother who comes in while her sister (Charlee Chase?) is fucking her son (after seducing this poor shy guy). Off course Deauxma joins the fun!
Comment #4
drew1980 said: i agree the sences not right its missing alot of good hard fucking and if you could get deauxma in a sence with ava devine ava and sienna and alot of anal from the girls would be great and well worth downloading no matter what the size would be.
Comment #5
alexkaa said: Always been a Deauxma fan. Good bigtits at work movie, but I agree with ugaalum, sometimes it's sexier when they're not so quick to, or don't, take all their clothes off...