Big Tits at Work presents: Busty office slut Carmel Moore gets pounded on her desk
Scene Title: Non-Smoking
Storyline: We all know how tough it is to quit smoking. In Lee's office, everyone, including his co-worker Carmel, has stopped smoking and everyone's been very tense. Fortunately, Lee and Carmel have a great idea, and it's the only way that they could break the tension and forget about smoking...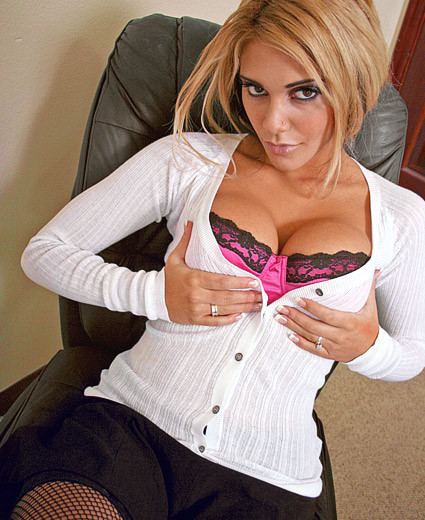 Big Tittied Carmel Moore Picture Gallery From Her Workplace
What people are saying about: Carmel Moore - Non-Smoking bigtitsatwork episode
Comment #1
alone said: Carmel is a gorgeous, foul mouthed young English whore in the best tradition, and it was a joy seeing her getting a good robust seeing to from Lee Stone. He fucks her good and hard, here, pawing and squeezing her sexy little body, and slapping her tits and arse as his passsion is roused; Carmel clearly loves every minute of it. I liked the big tits at work scene idea, and the way the big tits at work scene did for me. Good chemistry between the two, and a very sexy outfit for Carmel. What a cute, saucy little minx she looks with Lee's cum all over her face and tits. Congratulations to all involved.
Comment #2
chefjosh said: carmel is fucking hot, but most of all Lee Stone is probably the best male porn star out their, more lee stone please
Comment #3
eagleabc said: I'm suffering fro a real paradox here. I think a woman's english accent is super sexy. The same accent by a man does nothing and I think he should be thrown out of the country. Wierd? I reckon. Carmel does a great job here swallowing cum and now that she has stopped smoking, her pussy no longer tastes like nicotine.
Comment #4
rooster57 said: loved the accent. the stockings make her even sexier. great lady. love to fuck her.would love to see more of her with her stockings on. she is great
Comment #5
WadeRomeo1 said: WOW!!!!!!! Carmel is absolutely deliscious. Marry Me!!!!!!