Big Tits at Work presents: Busty Office Girl Ava Lauren getting pounded by boss at work
Scene Title: High Sex Drive
Storyline: Ava has a small problem. She has a very big sex drive, and she's getting very frustrated since she doesn't really know anyone at her new office. Luckily, she came to the right guy. Chris Cannon and his girlfriend, Eve, are swingers and were also showing some interest in Ava. Looks like this is the perfect opportunity for Chris to "test" Ava before bringing her home to his girlfriend...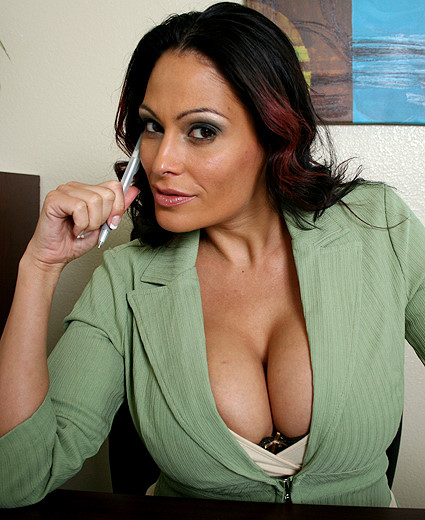 Big Tits Worker Ava Lauren HD Video
What people are saying about: Ava Lauren - High Sex Drive bigtitsatwork episode
Comment #1
eagleabc said: Ava, you have done it again. Your cum eating has necessitated that I go change clothes. I may soon have to start sending you my laundry bills.
Comment #2
BUFFDADDYDX said: Again Ava does it for me. Still waiting to see her in a Hot Girls with Ass scene cause she has a great ass. They also need just a blowjob site on this site cause Ava sucks good dick.
Comment #3
kevinfun1 said: Either way, clothed or unclothed, Ava is totally hot. I do agree about the male models though. You guys probally film in Los Angeles and there plenty of better models in that city. I would hope at least. Keep bringing Ava back, I love her....
Comment #4
bigtitfucr1 said: This woman is simply spectacular!!!! Besides Ava's great fuckbags, the things that turn me on the most about her are: her nasty talk while being boned, her beautiful brown butthole and her constant f#*cking of large bones. And boy can she suck a big cock!!! This is the next #1 pornstar.
Comment #5
Diatribe said: I'd prefer them to wear some parts of their clothes. It adds to the 'realism' of it all. If you got someone in your office & went to fuck them, would you completely strip down...? I'd keep their some of their stuff on, big tits at work would be way more sexy.
Big Tittied Ava Lauren Picture Gallery From Her Workplace