Big Tits at Work presents: Audrey Bitoni fucks her clients big hard cock
Scene Title: Costly but worth it
Storyline: After inspecting Mr. Sins new place, Insurance Agent Bitoni determined the house was at risk. Johnny figured it would be very costly to insure the house so he tried to make a deal with her. Audrey was willing to negotiate the price but first she had to inspect one more thing...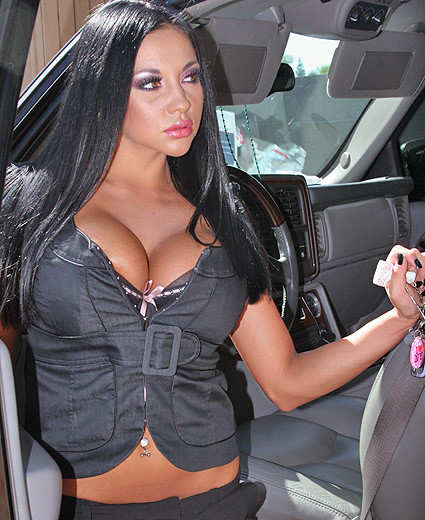 Big Tits Worker Audrey Bitoni HD Video
What people are saying about: Audrey Bitoni - Costly but worth it bigtitsatwork episode
Comment #1
timman04 said: Audrey is beyond amazing. Please Brazzers take full advantage of this hot slut, I want more audrey, now!
Comment #2
pantez1 said: Can we please have more girls wearing white full back bikini panties under their short skirts . Get the guys to rub their cocks up against the girls panty gussetts lots , and leave their panties on a bit longer at the begining. Very sexy . Vincent.
Comment #3
robb201 said: This big tits at work scene was good. I loved the whole insurance agent roleplaying. I'd like to see more scenes like this in the future. Audrey does have a bad boob job, but with her bra on, it blocked those ugly scars from being seen for the most part. It's good to see you finally used a guy that people like in this scene. I'm sick of all these douche bags you've been using. I'll give this scene a 9 + Favorited.
Comment #4
Psybolt said: Audrey is one of my top 5 favorite girls, she's so gorgeous. I don't really have a problem with her getting more implants, but damn...those scars are REALLY bad. You can tell in this and her last scene that she's trying to hide them. Hopefully they'll heal up in time, but wow. Nasty boob job. But despite that, the scene is a 10/10 as usual for Audrey. Great cowgirl (my fav), and like MJ said, those looks she gives are just too hot. Beautiful eyes.
Comment #5
MissSnoogans! said: Best face on Brazzers goes to...envelope please...Audrey Bitoni. The looks she was giving Johnny would cause anyone to cheat. The big tits at work sex was absolutely fantastic. The cowgirl was crazy. The cradle style was hypnotic. The doggy was alittle sloppy because they were each trying to fuck eaach other. Timing was just off. Glad to see Johnny fuck Audrey. Thanks to Brazzers for making it happen. Snoogans!
Big Tittied Audrey Bitoni Picture Gallery From Her Workplace