Big Tits at Work HD presents: Driving Miss. Bitoni episode
Scene Title: Driving Miss. Bitoni
Storyline: Tommy is a chauffeur for a very rich man and today he's in charge of picking up his boss' wife (Audrey) at the airport. His boss also asks Tommy to find out if there's any sign that Audrey is cheating on him. Little does he know that Audrey is ready to suck Tommy's cock dry as soon as they get to the house.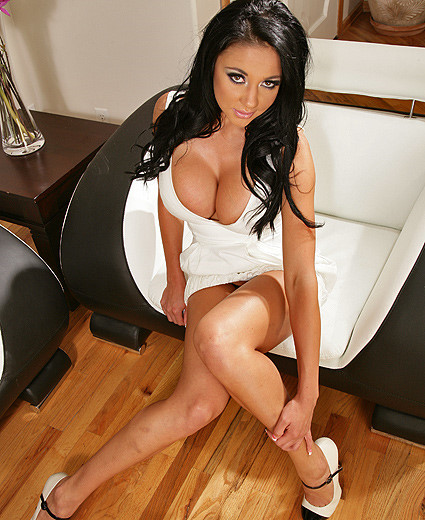 Big Tittied Audrey Bitoni Video from her workplace
What people are saying about: Audrey Bitoni - Driving Miss. Bitoni bigtitsatwork episode
Comment #1
Ricman45 said: Audrey could give BJ classes and teach women the proper way to ride a man's stiff woody. A gorgeous lady built for sex - with some enhancements thrown in. Who cares? She can flat out you-know-what.
Comment #2
robertomalone said: I love Audrey Bitoni!!! I always seem to forget how jaw droppingly gorgeous she is, so I'm cosequently stunned every time I see her in a new scene. And she's not just a pretty face, either; she really is developing into a very hot performer, with her own special little trademarks (check out how many scenes during doggy she slides back on her partner's cock and does a sexy butt wiggle). So, here in this big tits at work episode you have Audrey Bitoni as the high society babe in fishnet stockings and suspenders, high heels, sexy panties and bra, fucking her chaffeur's brains out, with the chaffeur being played by the ever reliable Tommy Gunn. You can't really go wrong! Another hit for Brazzers!
Comment #3
cubsfan101 said: I think she's the only REALLY good actress. she doesn't speak as if she is going to have sex in about 5 minutes. downside: scars, but allaround, she is THE BEST brunette out there.
Comment #4
steviousm said: It is unfortunate about the boob job but i'm sure the scars will fade over time, however it seems over time she just gets better and better at sucking cock. This girls lips are amazing i cannot stress this enough, she is a really beautiful looking girl that you can tell is naturaly really dirty minded with some of the faces she pulls and the lovely eyes. I would love to kiss this girl and have her suck my rock hard cock.
Comment #5
smutluver said: Does ANY girl suck cock better than Audrey Bitoni? She's got such fit for purpose blowjob lips! This babe is a real turn on.