Big Tits at Work presents: Angelina Valentine loves to fuck at the office
Scene Title: Office Tricks
Storyline: Angelina's boss leaves unexpectedly but before leaving warns Angelina not to go in her office. Being the nosy secretary that Angelina is, she goes into her boss' office to find TJ handcuffed to her chair naked!Knowing her boss won't be back for awhile, Angelina decided to have a little fun with TJ right in the office!She fucked him and loved every minute of it and after he came on her pretty face, it was business as usual.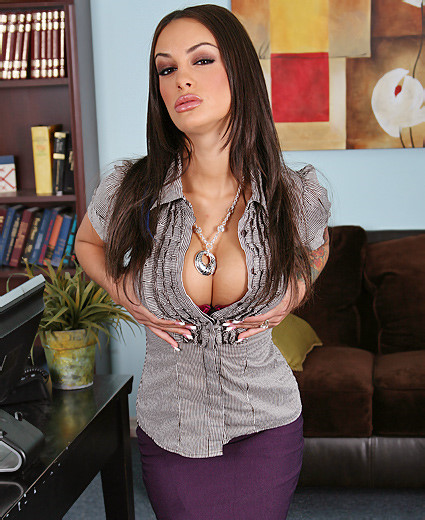 Big Tits Worker Angelina Valentine HD Video
What people are saying about: Angelina Valentine - Office Tricks bigtitsatwork episode
Comment #1
poophead3 said: Angelina's tattoos r one of my fav things about her, i love chicks with tatts! of course her #1 atribute is her super sexy eyes! as long as she dosent put ne ink on her amazing tits she'll stay in the top ten in my book.... booby tatts r so white trash.... yeah i said it!
Comment #2
keith32 said: HOT! One of my favorite scenes because of her outfit of stockings and heels. Love the part around 22:30 - 28:30 because you get a great view of her of her stockings and heels as she gets pounded...
Comment #3
norm007 said: I love girls with tattoos, so Angelina is a hottie. Thanks for putting her in stockings Brazzers. Love it!
Comment #4
VidarQS said: Brazzers - I would LOVE to see Mariah Milano and Angelina Valentine do a lesbian scene. Just those two. I would want them to suck on each others boobs real hard, take turns sitting on each others faces, and do a beautiful 69. Most important part - During the face sitting and 69 - LOTS of super loud sucking/slurping noises as they suck on pussy lips. TONS of this, nonstop like crazy. Take this into consideration loud and sexy as they can. PLEEASE by ALL MEANS, make this happen Brazzers.
Comment #5
MissSnoogans said: Does ZZ have a case of fumblitis? Let's say that Angelina listens to her boss. She doesn't go in the office until she hears a noise. TJ trying to get free from being cuffed to the chair. Instead of her sexual attacking him, what about an offer. What do I get for taking the cuffs off you. Anyways never saw her with the key to take the cuffs off. Whatever flaws the story had made up for it with sex. She made TJ feel real special as the tears rained down her cheeks from deep throating his cock. This is the way TJ should fuck in all his scenes. He gave that pussy hell in mish. The doggy and cowgirl on the desk were hot when he was pounding her. I liked how they fucked in the chair the best. Damn she made her mouth a cum deposit. At least it ended with him remaining cuffed. Snoogans!
Big Tittied Angelina Valentine Picture Gallery From Her Workplace