Big Tits at Work presents: Aletta Ocean knows the meaning of team building by sucking huge cock
Scene Title: 3 Trustworthy Fuck Holes
Storyline: Today is the Brazzers team building day! Activities have been planned out for the employees in order to get to know and trust one another. While playing "The Spider Web" Aletta gets caught up in the ropes and cant get out! As the employees move onto the next event Scott cuts through the web and frees Aletta. As we all know, hero's must be rewarded! Aletta, being the sexiest babe on earth, treats Scott to some real fuckin' Brazzers style team building. Letting him stick his cock in every one of her hot sexy fuck holes! Damn!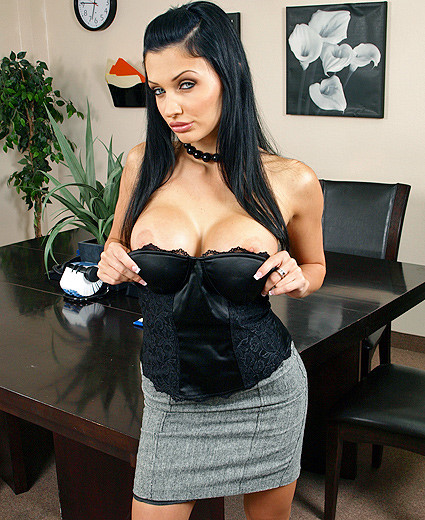 Big Tits Worker Aletta Ocean HD Video
What people are saying about: Aletta Ocean - 3 Trustworthy Fuck Holes bigtitsatwork episode
Comment #1
bansheee69 said: i could do without the anal too.....but...FUCK YA....LOVE THESE EURO SLUTS!!!!! love the way this bitch cums on cock..a real super star!! 10/10 love the tits too! more of this slut in stockings and heels!!! MORE OF THIS EURO SLUT!
Comment #2
Angelus4376 said: I remember when I first laid eyes on ALETTA. I quickly dismissed her as another weirdly-named, anal-intensive Euro gal who'd likely disappear from the biz without a trace in a few months. I didn't think I'd like her and definitely didn't plan on getting attached. Not to mention, she looked like Hungary's version of AUDREY BITONI (not a good thing in my book if the performances turned out to be anywhere near the same). How wrong I was! There's something truly ALIEN about this woman that has kept me intrigued and steadily devouring her work. Glad to see her here yet again.
Comment #3
PabloEscobar said: she is one of the best pornstars ever!! cant wait! please more ana!!!
Comment #4
BMasters872 said: I don't like that Aletta is doing anal =(, just fuck her the right way, in her pussy.
Comment #5
fawkface1 said: They should get some dude who is shorter than Aletta and have a spoof of the Rocky & Bullwinkle show. Aletta could be Natasha and some short dude play Boris Badenoff. As for the scene, I dunno. This big tits at work trailer looked sort of gay. But then if it has Keiran, some folks will bitch big time, hello?! Scott's getting a lot of playing time lately. But hey, if Scott can drill 'em until they pop, good job!
Big Tittied Aletta Ocean Picture Gallery From Her Workplace